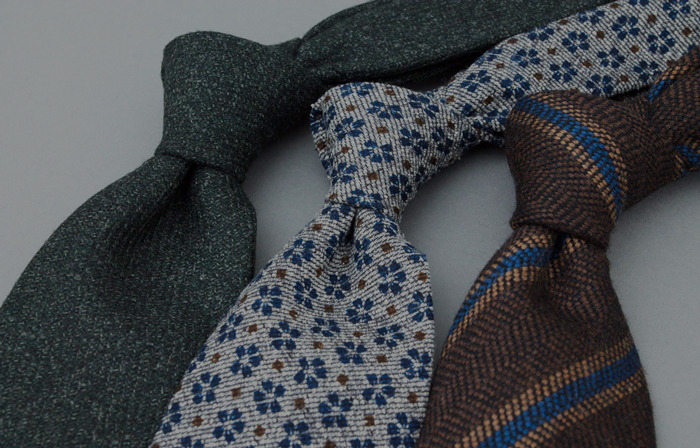 Twice a month, we like to thank our sponsors for their support. It's because of them that we're able to bring you our blog content every day.
Our first sponsor this month, The Hanger Project, just got a bunch of fall neckties in from Drake's. They're made from pure wool or wool blends, and feature the kind of soft, earth-toned colors that most of us wear this time of year. The advantage of wool ties is that they absorb light, rather than reflect it, which allows you to add a little visual interest to a tweed or flannel jacket. You can pair one with a silk pocket square, so there's a little balance between the matte look of your tie and the sheen of your square.
Next, Gustin is continuing to roll out new projects with their zero waste, direct-to-consumer, crowdsourcing business model. They're most famous for their raw, selvedge denim jeans, but they've got plenty of other stuff as well. Right now, there's a black canvas trucker jacket, a waxed brown chore coat, eight designs for casual shirts, and a handful leather goods (belts, wallets, and key fobs). Just note that the window to buy closes once projects reach 100% funding, so space is limited.
Our third sponsor, Proper Cloth, also has some new stuff in. They've added some premium fabrics from Thomas Mason's Goldline to their shirting collection (Thomas Mason being a famous division of the Albini Group, a high-end fabric producer in Italy). They've also added some new fall jacket styles to their line-up, as well as their first two suit offerings. The suits and sport coats are ready-to-wear, while the shirts are completely customizable (down to the fit).
Finally, our thanks to Ledbury and Chipp Neckwear. Ledbury just put up their new season's collection of sweaters (lots of finely knit mocknecks and v-necks at the moment), and Chipp just restocked their Italian knit ties, and plans to get some new ancient madder styles later this week.
If you want to advertise on Put This On, just email us at contact@putthison.com.
---