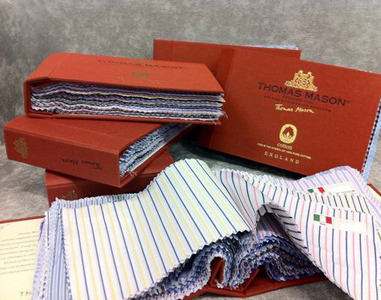 Twice a month, we like to thank the companies that sponsor our work here at Put This On. This month, our sponsors include Cottonwork, The Hanger Project, and Ledbury.
Cottonwork is an online company that provides men with custom, made-to-measure shirts. To have a shirt made, you can either punch in your measurements online or send them your best fitting shirt to have the size and cut copied. All of their shirts are made with a high stitch count (which makes their seams nearly invisible) and single needle stitching (which is cleaner and neater than double needle). Care is also taken to make sure all the patterns are matched along the sleeves, shoulders, and pockets, thus allowing the eye an easy transition as it moves from one part of the shirt to another. Cottonwork gives all of their shirts a 60-day alterations or exchange guarantee, and if you like them enough to refer a friend, they have a referral program where you can get $10 off your next order.
Our second sponsor The Hanger Project sells high-quality clothing hangers. Their hangers have wide, curved shoulders and come in four different sizes. This allows them to best support the shape and structure of a suit jacket or sport coat. Since starting, however, they've expanded into a wider range of clothing care products and men's accessories. For example, they now sell a shoe care products, laundry care items, and various things related to personal care. Kirby, the founder of the company, also has a full shoe care guide posted on his website, which covers almost everything you'd ever need to know about the topic.
Finally, our last sponsor Ledbury started off in men's ready-to-wear shirts, but has since expanded into sport coats and men's accessories. This Thursday, March 21st, they'll be holding a pop-up shop in Charleston, at the city's epicenter of shopping, located at 275 King Street. The pop-up shop will go until Sunday the 24th. In anticipation of the event, they've created a Charleston-inspired Short Run collection that will drop tomorrow. However, as a thank you to Put This On readers, they're giving readers here the first chance to shop their latest limited-edition collection.
So thank you to all three companies for their support. We genuinely appreciate it.
If you want to advertise on Put This On, just email us at contact@putthison.com.
---