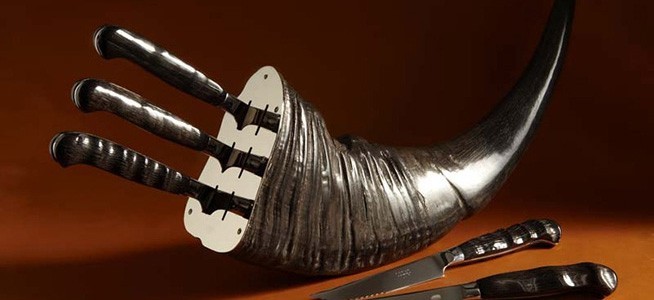 Twice a month, we like to give a special thank you to the companies that sponsor us. Our sponsors this month include The Hanger Project, Ledbury, and Flint and Tinder.
The Hanger Project, as their name implies, specializes in high-end wooden hangers, each of which are designed to best support the garments they were intended for. They sell much more than hangers though. This month, they have a special project going on with CEDES Milano, the company that makes accessories for G. Lorenzi. CEDES is best known for their work in turning exotic horn and tusks into things such as knives and shaving brushes. The stuff looks extraordinary, though it is fairly expensive. If you're looking for more affordable items, check out The Hanger Project's line of Saphir shoe polish, garment brushes, and cedar closet accessories.
Our second sponsor, Ledbury, started as a shirt company, but they've grown to be a much fuller menswear line. They just released three new summer sport coats in a range of different blues, for example. They also have a new spring necktie collection, and as a thank you to our readers, they're offering $20 off any shirt and tie combo. Just use the checkout code PUTTHISON. Lastly, if you follow them on Facebook, you can participate in their "Design-A-Shirt" contest. That's where Ledbury fans can weigh in on new shirt designs and the company will produce whatever is the crowd favorite. Voting on a shirt option also enters fans to win any shirt from Ledbury's collection.
Finally, our third sponsor is Flint and Tinder. They sell a line of undergarments made from long-staple cotton, produced and manufactured in the US of A. These include boxers, briefs, boxer briefs, undershirts, and socks. If you're good on underwear at the moment, Flint and Tinder also offers various leather goods, tools, and accessories in their Men's Shop, each of which carries the Americana heritage spirit that the company is built on.
So, thanks to all three companies for their sponsorship. We genuinely appreciate it. 
If you want to advertise on Put This On, just email us at contact@putthison.com.
---