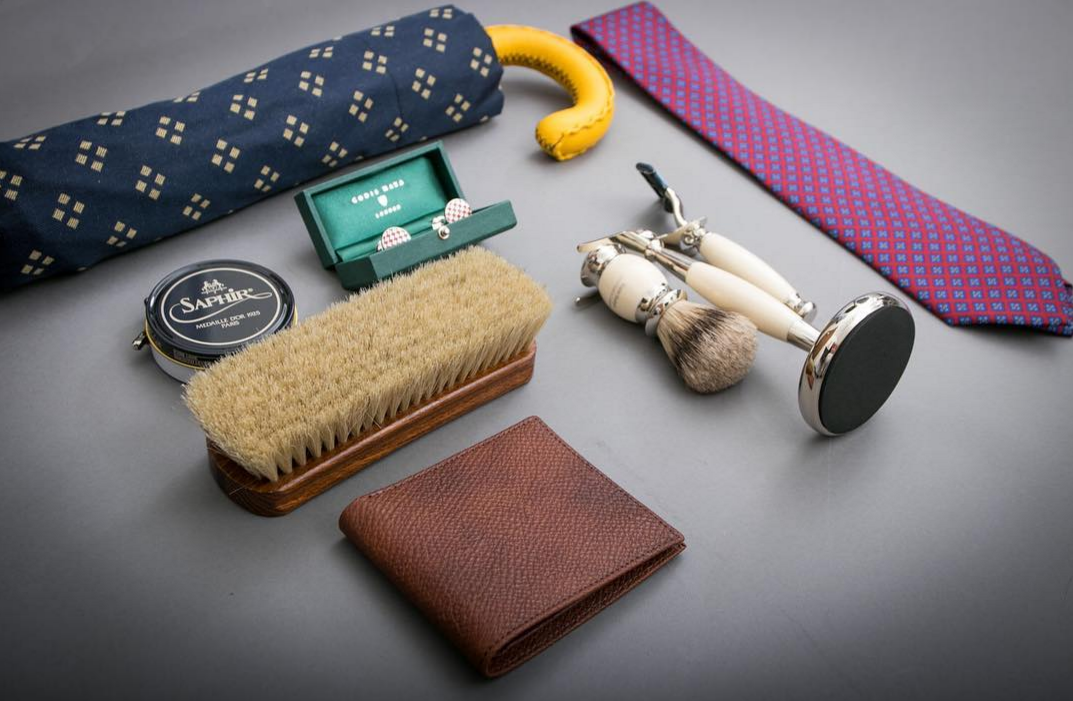 Put This On wouldn't be possible without the support of our sponsors, so twice a month, we like to give them a special shoutout. This week, many of our sponsors are holding Father's Day promotions, which allows you to stretch your dollars a bit if you haven't already gotten that special gift. 
Over at The Hanger Project, you can take 10% off any order or 20% off if you spend over $250 (use the codes FATHERSDAY10 and FATHERSDAY20 respectively). Some things that could make for a good gift for the old man: some fancy wet shaving supplies and fragrances, fine leather gloves, or nice corkscrews for the wine enthusiast. The codes also work on things that have already been discounted, such as knitwear from William Lockie and Inis Meain. 
Proper Cloth, long known for their shirts, has also been in the suit game for a while. This week, they released their newest model, The Mercer. Fully canvassed and constructed from Super 150s Italian wool, it features soft shoulders and slightly open quarters. If you're looking for a new shirt, they also just added some new organic cotton fabrics from Albini, which have been woven from sustainably grown cotton using pesticide- and GMO-free farming techniques. You can use them for their new short-sleeved shirt models, which will arrive to you just in time for summer.  
If you're looking for some new summer neckwear, Chipp has a wide range of Matka silk ties. For those unfamiliar, Matka is a loose basketweave handwoven from slubby silk yarns. Their unique textures will help dress down a tailored jacket, as well as add a sense of playfulness. As with all of Chipp's ties, these are made in New York City, but run for an affordable $45 (less than half the price of their competitors). The seasonal weave can be worn with suits and sport coats in linen, cotton, and open-weave tropical wools. 
For another Father's Day promotion, check Dapper Classics. From now until Tuesday, you can take 10% off purchases over $50 with the checkout code HFD10; 20% off purchases over $100 with the code HFD20; and 25% off purchases over $150 with the code HFD25. Note, given the structure, that means the company's popular tailored trousers are 25% off right now (chinos excluded). Dapper Classics also has some other gift suggestions, if you need.
Likewise, American Trench has a promo this Father's Day. Take 10% off their sock and wallet bundles with the code PTODAD (the code expires June 16h). There are tons of sock designs in there, but included are Breton stripes – a classic, nautical design that was a favorite for the late Glenn O'Brien. The simple, streamlined wallets were also made to hold cash and cards, but fit slim into a pocket. Ezra Arthur, a long time leather craftsman in Arizona, made them from full-grain Horween leathers. 
Finally, our thanks to Twillory. They're giving out free tie bars this week with any shirt or tie purchase. The silver-colored bars come in a clip-on design, which lowers the chances of dad snagging the weave on his finer neckwear. You can stack the promo on top of Twillory's "buy one, get one free" program for first time customers. Note, the tie bar offer is good until supplies last and you can see photos of it on Twillory's Instagram. 
If you want to advertise on Put This On, just email us at contact@putthison.com.
---