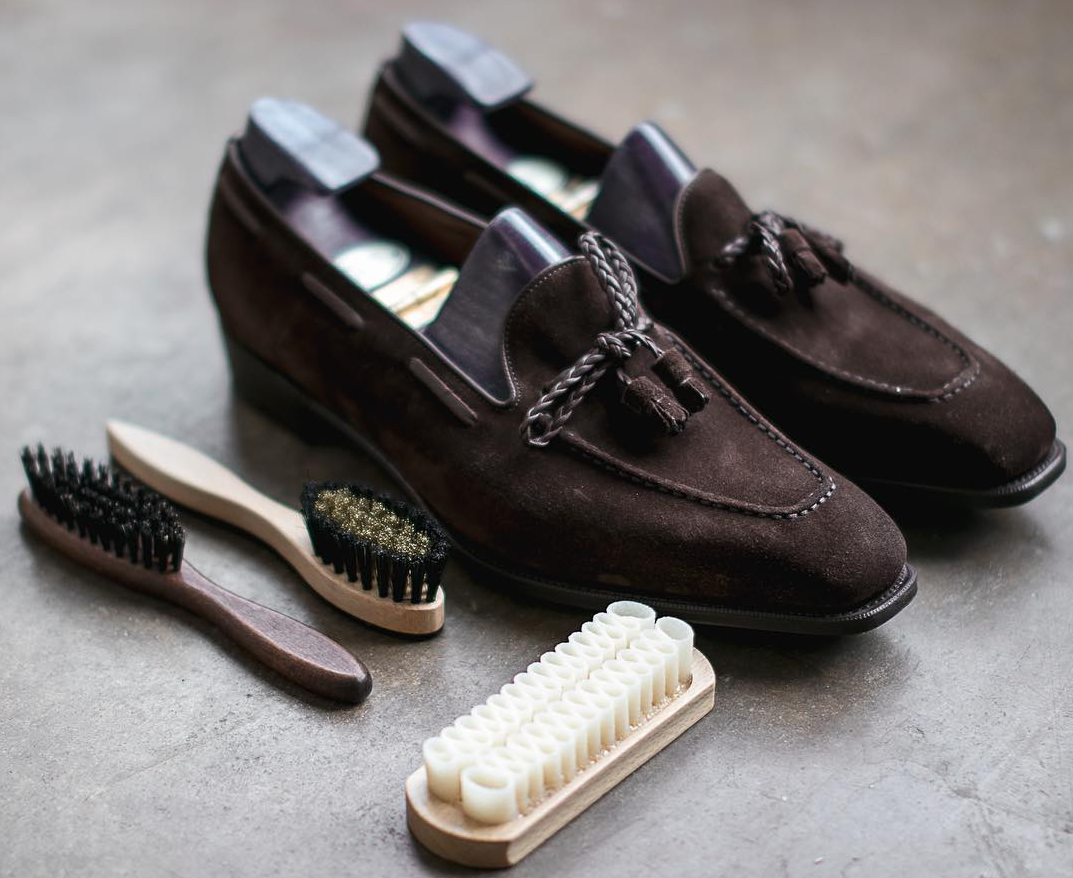 Put This On is made possible thanks to the support of our sponsors, so twice a month, we like to give them a special shoutout and say what's going on with them.
Many readers will be familiar with crepe. It's a gummy, soft rubber that's often used to make the soles of casual shoes. What some may not know, however, is how the material is also used for cleaning suede footwear. The Hanger Project recently put together a short instructional video showing how to use their crepe brushes. Simply brush them against the uppers to pick up dirt and debris. The soft rubber is a bit gentler than stiff wire brushes, although you'll occasionally want to use the latter for deep cleanings. You can see all of The Hanger Project's suede shoe care supplies here. 
Proper Cloth just wrapped up a lookbook shoot in Cuba, but their recently released behind-the-scenes footage may be even more enjoyable than the lookbook itself. The team traveled to Havana earlier this year to shoot their new collection of linen-blend sport coats and floral print shirts against a backdrop of mid-century cars and pastel colored buildings. After some snags in their plans – missing permits and authorities suspicious of their drones – they were able to pull together their photoshoot and have a great time. The behind-the-scenes video they have on their site showcases their collection, but it's also a mesmerizing look at a beautiful country. 
Back in the early- to mid-20th century, Sidney Winston of Winston Tailors was known for making patchwork tweed and madras sport coats for Ivy Style enthusiasts who liked to have fun with their clothes. Naturally, that sense of humor also shows up in their ties. Chipp Neckwear, the online accessories arm of Winston Tailors, has a set of cheeky "novelty" ties with hidden messages. This tie would complement Connor McGregor's FU suit. And this would be perfect for Shark Week. 
Our friends at Dapper Classics just got back from a round of clothing tradeshows in NYC. They're just now starting to introduce their line of Fall 20017 socks, which will include both fine cotton and merino wool styles in a variety of colors. They're also restocking on their fall/ winter trousers. Made in NYC by a tailoring company known for their trousers, Dapper Classic's pants are one of the few options for this level of quality for around $200/ pair. 
Speaking of pants, American Trench just released some new styles on the other side of the formality isle. Their selvedge denim jeans are made from a unique blend of cotton and linen, which makes them a solid three-season choice outside of winter. The jeans were made in collaboration with Shockoe Atelier, a small family-owned and -operated company that produces everything in Richmond, Virginia. They come in two colors, olive and khaki, and are on-sale for a limited time at American Trench's site. 
Finally, our thanks to Twillory. They're busy moving to a bigger warehouse this week, and instead of paying movers to transport their inventory, they decided to have a warehouse sale to pass some savings onto their customers. At the moment, you can pick up four shirts for $179 (with free shipping and returns). This is their best sale yet, aside from Black Friday, and you can take advantage by using the checkout code MOVINGSALE. 
If you want to advertise on Put This On, just email us at contact@putthison.com.
---