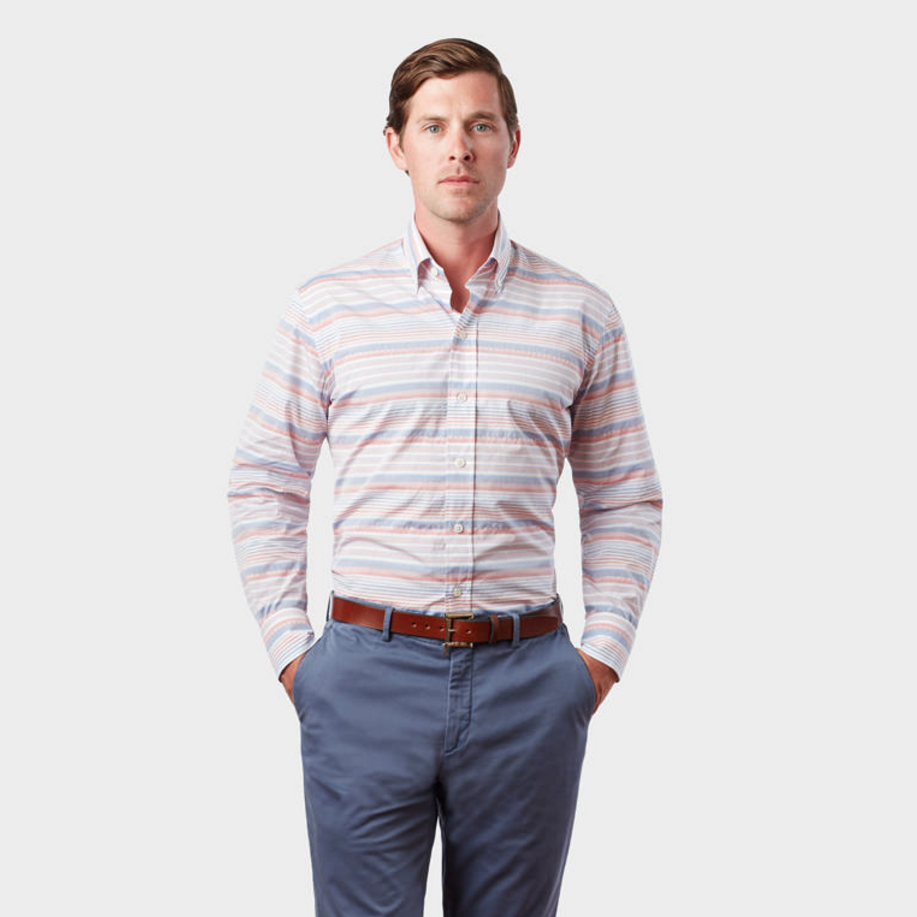 Put This On is made possible by the support of our sponsors, so twice a month, we like to give them a special shoutout and mention what's going on with them. 
July calls for cooler wearing shirts, and Ledbury has them in a mix of lightweight cottons and linens. Their head shirt stylist, Alex, suggests their Landon Stripe for summer BBQs. A pure cotton with red, white, and blue horizontal stripes, it's also a good shirt for election year. For pure linens, Ledbury's Lavender Eastwood Linen can be used for weekends and at the office, but if you want to get the best of both worlds, Alex suggests their Nautical Jacquard. Made from 56% cotton and 44% linen, it has the cool feel of linen, but with fewer wrinkles. 
Our friends at The Hanger Project just got in some new accessories. Their limited range of "Russian Reindeer" leather goods are made from centuries-old leathers found in a sunken ship (no, really). The Russian ship originally sailed with its leather cargo in 1786, but disappeared before making it to its destination. Two hundred years later, it was found by some members of the English diving club, and the leathers have since been made into bespoke shoes and high-end accessories. Also just in: Francois Pinton eyewear frames, handmade in France and once the choice of Aristotle Onassis. 
Paul Winston over at Chipp Neckwear continues to offer some of the lowest prices around for neckwear. In addition to his ancient madders for fall and silk Matkas for summer, he also has Italian knit ties you can wear year round. A little floppier and more casual, they designed to be worn with tweed sport coats, linen suits, and navy blazers.
As long time readers know, Gustin crowdsources all of their production online. By cutting out distributors and retailers, and doing everything on pre-order (hence reducing waste and unsold inventory), they're able to offer things at wholesale prices. Their raw, selvedge denim jeans, for example, are made in the USA using American and Japanese materials. Starting price is $68, which is about what you'd pay at Levi's for lighter weight, non-selvedge jeans made abroad. 
Finally, our thanks to Proper Cloth and Private White VC. Proper Cloth just launched a dozen new, business-casual fabrics at their $140 price point. They also have a new MA-1 bomber jacket, 100% made in Italy (from fabric to finish), in a relaxed, lightweight cotton that's designed for summer weekends. Private White VC, meanwhile, just started their spring/ summer sale. Select items from them and their third-party partners are now available at 40% off. 
If you want to advertise on Put This On, just email us at contact@putthison.com.
---