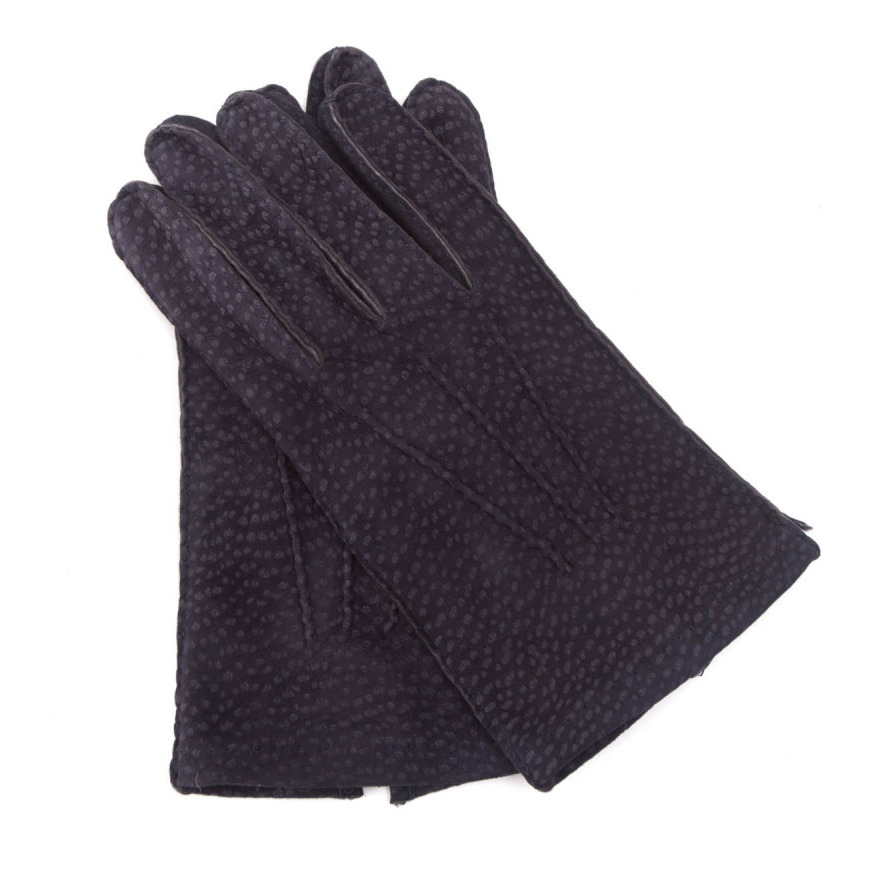 Put This On is made possible thanks to our sponsors, so twice a month, we like to give them them a special shoutout. It allows us to recognize them for their support and say a little about what's going on with them. 
Our first sponsor, The Hanger Project, is holding a 25% off end-of-season sale. Most readers know them for their broad range of shoe care supplies and speciality hangers, but they also carry fine accessories and clothing. At the moment, you can find a selection of their Begg scarves, William Lockie sweaters, and Merola gloves on sale. Begg and Lockie are both top-end Scottish producers that make for Savile Row houses and luxury firms; Merola is one of the most renowned Italian makers for hand-sewn gloves. This navy pair of Carpincho gloves is unlined, giving you a more form-fitting look. 
Proper Cloth has some new shirt fabrics – business casual checks made from a smooth, two ply, 120s weave. They're designed to add a bit of visual interest to your suits and sport coats, while also giving them a slightly more casual edge. For winter layering, Proper Cloth has some new cashmere turtleneck sweaters in stock. Made with what's known as a cobble-stitch, they have a subtle texture that goes just as well under tailoring as it does with casualwear. 
Our friends over at Chipp Neckwear are adding a custom option to their necktie service. If you need something a little longer than their standard 58″ ties, they can custom make them for an additional $10. Good for guys who are a little taller, and want their ties to end at the right length (hitting the belt-line). As usual, every tie is made in the USA from the same English and Italian fabrics used by top-end producers. Their grenadines, for example, are just $55. 
Meanwhile, Indigo & Cotton is holding their end-of-season sale. That includes knitwear from the Danish manufacturer SNS Herning. Originally designed to protect fishermen from the harsh seas, their sweaters are made with unique bobble stitches to boost insulation. Today, they also help stylish men add a bit of texture to their outfits. For other deals, check their selection of things from Engineered Garments. These fatigues, for example, would add a little variety to a chinos-and-jeans wardrobe. 
Finally, our thanks to Linjer and Gustin. In the next few months, Linjer is planning to introduce a new line of backpacks (appropriate for
grownups, they assure me), briefcases and totes, all made from premium
Italian canvas and vegetable-tanned leather trims. They're not revealing
too much, but you can learn more by joining their pre-launch email list. Gustin, meanwhile, currently has some new projects up for casual sport coats. They're made from a washed cotton and specifically designed to be worn with jeans. 
---