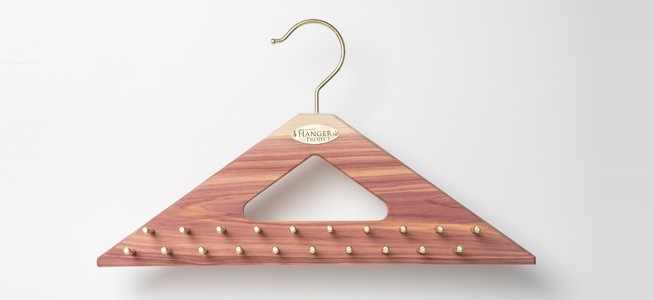 Our big thanks to three companies for sponsoring our blog this month. Though we write our site out of a love for classic men's style, it's nice when companies come and support what we do. 
Our first sponsor is The Hanger Project, who as regular readers know, sells high-end, specialized hangers for things such as sport coats, trousers, and suits. They even have cedar hangers for ties. Cedar is particularly useful in a closet since it's a natural way to protect clothes from moths. It helps mask the scent of things moths are attracted to (like bits of food that have fallen on your clothes), so hanging this will not only protect your ties, but also any garments nearby. The Hanger Project sells much more than hangers though. You can turn to them for almost any garment care product you can think of, as well as accessories such as over-the-calf socks. Over the calf socks have the advantage of not slipping down throughout the day, so that your bare calves won't show when you sit down.
Our second sponsor is Ledbury, who specializes in men's shirts, but also sells sport coats and various accessories. For this upcoming spring and summer seasons, they've been building out their warm weather shirt options (tons and tons of gingham) and are introducing a new line of spring/ summer neckwear. Their latest batch of ties comes in an assortment of unique material combinations and bright seasonal colors. Highlights include a series of mélange knit ties made from a combination of light/ dark linen-silk yarns, a light blue cotton-silk houndstooth, and several bright silk basketweaves with subtle geometric shapes. Each tie is made in Como, Italy using Italian silk, French linen, or Egyptian cotton.
Finally, our third sponsor, Flint & Tinder, is new to our site. They recently got their start by raising money off Kickstarter to produce a line of American-made men's undergarments. This month, they're working on a new project: something they're calling The 10-Year Hoodie. It's a hooded sweatshirt that's guaranteed for a decade, and backed with a free mending service. As of now, their Kickstarter for the project has impressively raised over three-quarters of a million dollars, making them one of the most successful – if not the most successful – clothing-related project Kickstarter has seen.
So thanks to all three of our sponsors for their support. We genuinely appreciate it.
If you want to advertise on Put This On, just email us at contact@putthison.com.
---