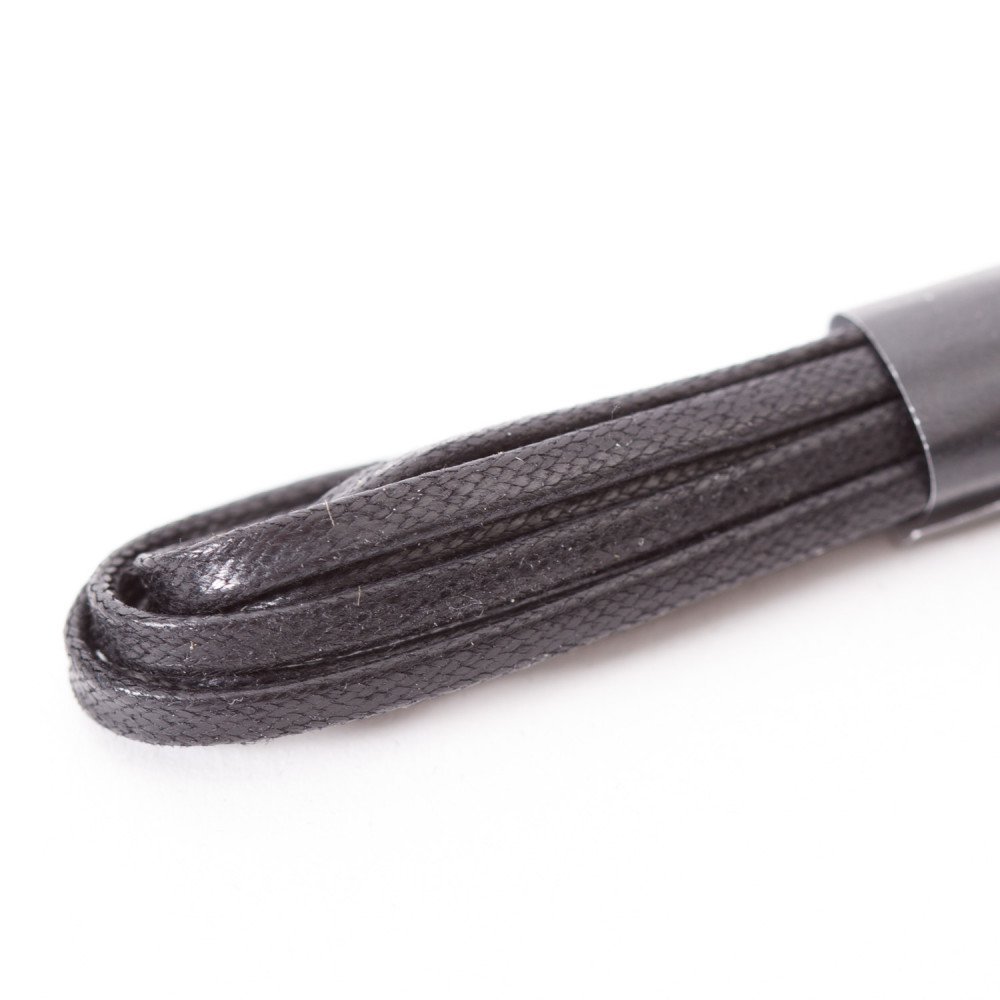 It's thanks to our sponsors that we're able to keep the lights on. So, twice a month, we like to give them a special shoutout and say a little about what's going on with them. 
The Hanger Project just released some new flat waxed shoelaces. These come in a special 2.5mm width, which is about half the width of the 4mm flat laces you commonly see sold elsewhere. The thinner design makes these formal enough for proper dress shoes, including black oxfords or dark brown derby wingtips. When worn, they make for a sophisticated alternative to round lace designs. 
Over at Proper Cloth, you can find some new bold prints for their made-to-measure shirt program. Most custom tailors only carry office-appropriate fabrics – end-on-end, poplin, and dressy twills. Proper Cloth, on the other hand, not only has things you can wear to work, but also things for the weekend. Their new off-duty prints include everything from vintage-inspired foulards to large scale palm-leaf and Aloha designs. You can see some of the shirts being used in their new "Havana" lookbook. 
For readers in NYC, Chipp recently moved their tie business from Manhattan to New Jersey. That said, you can still check out their ties (and purchase them) at The Alden Shoe Shop, located at 340 Madison Avenue in NYC, between 43rd and 44th Street. Paul, the company's proprietor, is also available to meet in New York City by appointment if you're interested in suits, sport coats, and trousers. For over fifty years now, they've specialized in custom Ivy Style clothing, often made from wilder fabrics that you won't find elsewhere. 
Meanwhile, Dapper Classics is planning to have a one-day flash sale this Tuesday, June 27th. Readers can expect a 20% discount on the company's "Patriotic Collection" (some things they've put together to celebrate the coming Fourth of July). No word yet on what exactly the sale will include – you'll have to check back to find out. 
For sports fans, American Trench has some new vintage-inspired socks in popular team colors. These short, crew length, athletic socks come up about mid-shin when pulled up, which gives them a more causal feel. And, unlike the cheaper socks you'll find elsewhere, these are made from American-grown and -spun Supima cotton, which means they won't pill in the wash. Nobody want to see raggedy socks on Game Day. 
Finally, our thanks to Twillory. They just introduced their Friday Shirt, which is designed like a dress shirt, but feels like a pique cotton polo. As the name suggests, these are designed to be worn casually on their own with chinos or tailored trousers, or layered underneath a sport coat to give a more off-duty feel. Another upside to pique cotton: it doesn't wrinkle, so you can use it as a travel shirt. 
If you want to advertise on Put This On, just email us at contact@putthison.com.
---