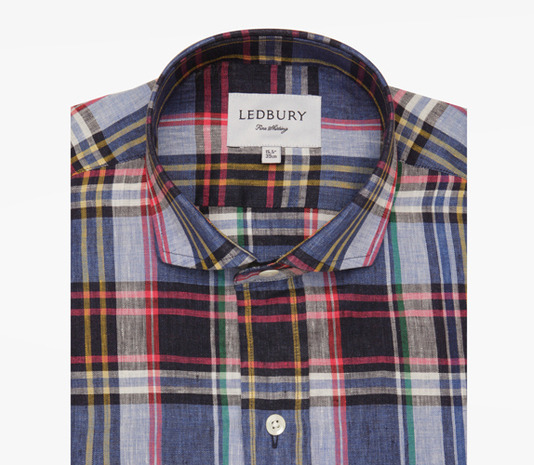 As an independently run site, we feel very fortunate to have companies sponsor what we do. So twice a month, we like to give our sponsors a quick "thank you," and say a little about what's going on with them. 
Our first sponsor, Ledbury, is doing a massive giveaway. It's called "Outfit Your Office" and if you enter and win, you and everyone in your office will get a $150 gift card. That amount is meant to cover the cost of a free shirt, but you can use the card towards any other purchase as well. As you can guess, given the contest's design, this means that if other people in your office enter the giveaway, your chances of winning go up as well. And, for the winning office, Ledbury will also fly out and host a party (complete with bourbon) and do a shirt fitting for you.
Our next sponsor, The Hanger Project, just put a bunch of new products up on their site. Included are ton of new Drake's ties, such as the bold, heavy silk prints and conservatives Tussahs you see above. Tussah, for those unfamiliar, is sort of like a distant cousin to raw silk. It's a bit lighter weight and looser knit, but it has the same slubby texture that makes it great for the warmer seasons. There are also some new leather products by Daines & Hathaway, a premier English leather goods maker. This Kensington Zip Case, for example, features a brass key lock and can hold important documents, as well as 13" MacBook. 
Gustin also has some new things in. Lately, they've been doing things with heavier weight denim, such as the 26oz denim jeans they did last week (the heaviest used by an American brand), and the 23oz they're releasing this week. As their business model goes, people sign up for pre-orders and then Gustin goes into production. In this way, the company can offer lower prices, as their customers don't have to pay for middleman mark ups or the brand's need to account for overstock. All of Gustin's products are designed and made in San Francisco, and you can see how their jeans fit above. 

Lastly, Proper Cloth just added thirty new fabrics to their cloth selection. Included is everything from fun multi-colored ginghams to basic fabrics for the office. You can use these to design a custom shirt through their online made-to-measure program.
Our sincere thanks to all four sponsors. Their support is greatly appreciated.
If you want to advertise on Put This On, just email us at contact@putthison.com. 
---