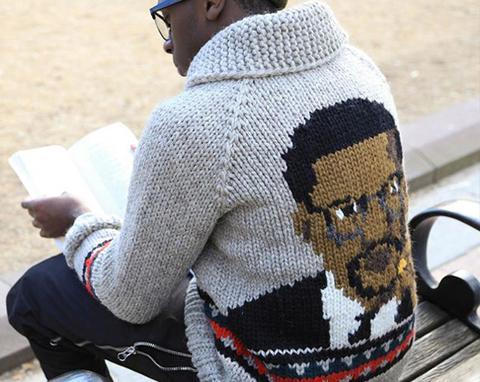 I was watching my friend Wyatt Cenac's new standup show Night Train yesterday, and was struck by an incredible Cowichan-style sweater he was wearing. You might know Cowichans as "Dude Sweaters," named after the legendary number that Jeff Bridges wears in The Big Lebowski. They were historically knitted by the Cowichan Salish people of British Columbia, and they're a sort of national garment of Canada. These days they're knitted by all sorts of folks – and the Cowichan prefer that the ones they knit be called Cowichan, while others are called by more generic names.
Anyway: Wyatt's incredible version featured abstract winter designs on the front, and on the back – a portrait of Malcolm X. You can see a product shot up top. Today I asked him where he got it, and he told me about Granted, who make some remarkable versions of the traditional garment. In fact, I realized I had one of theirs in my own closet, the blue timberline-and-starry-night version pictured above.
Among the other experimental designs and collaborations Granted have pursued are (working our way top-to-bottom and left-to-right after Malcolm above) a design featuring the CBC logo, a surfer's vest with a pop-up van, one based on early football uniforms, a gorgeous design by First Nations artist Corinne Hunt and many more.
You can take a look at a gallery of these astonishing designs on Granted's site, here.
---