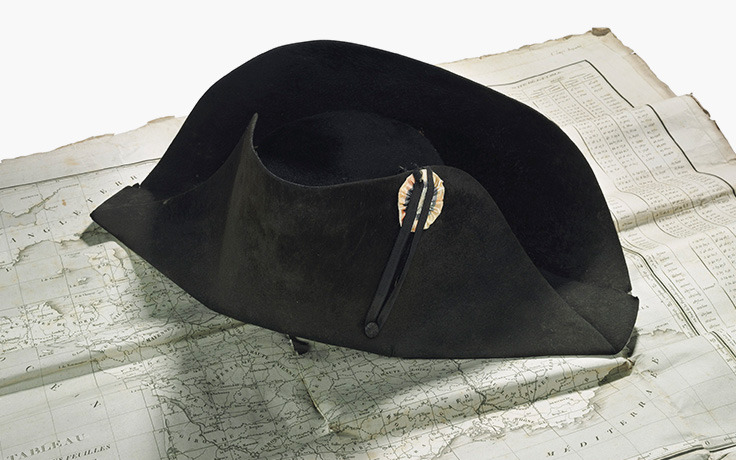 Emperor and noted pomp enthusiast Napoleon Bonaparte preferred his trademark bicorne hats bought new but didn't wear them until broken in (he had his valets do the dirty work) and consciously chose to stand out from the crowd by wearing them sideways (not recommended with jeans). Christie's plans to auction one of Swaggy B's hats this summer, and Claire Wrathall puts his headgear style in the broader context of his early understanding of what we'd call a strong personal brand. 
When it came to the battlefield, Napoleon's personal style signifier,
so to speak, was his hat: a black felt bicorne, made by Poupart &
Cie, which had premises in what is now the Palais-Royal in Paris. The
convention of the time was to wear such hats with their corners pointing
forward and back. In order to ensure he was instantly identifiable on
the battlefield, Napoleon wore his sideways.

Poupart is thought to have made about 120 hats for him… He would order four new ones a year, and didn't like to wear
them new. Rather he had his valets break them in for him.
The hat is expected to bring £300,000 to £500,000 (so $500,000 to $800,000, approximately), which makes any and all hats we've discussed on Put This On seem like pretty good deals.
–Pete
---