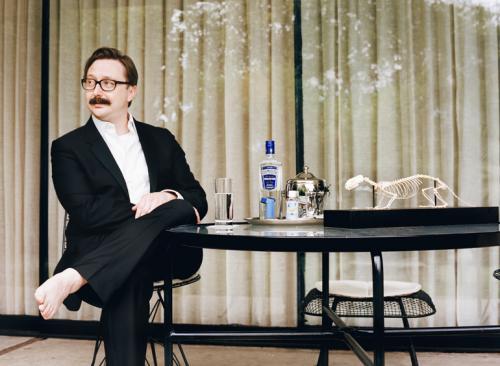 My good friend Mr. John Hodgman is a writer, famous minor television personality, and deranged millionaire. His new book, THAT IS ALL, is the third and final in his trilogy of All World Knowledge. It features extensive instructions on living as a deranged millionaire, including a handy guide to dress. We've reprinted the instructions here, with Mr. Hodgman's permission. Please note that if you don't buy his book, which hits bookshelves November 1st, you'll never amount to anything.
HOW TO DRESS LIKE A MILLION DERANGED DOLLARS,
OR "THE BEST COSTUME FOR THE DAY"
You can learn a lot about a DERANGED MILLIONAIRE by looking at his/her wardrobe for a long, long time. It's OK to stare at them this way. They will not notice you, because YOU DO NOT EXIST TO THEM.
Everyone has his or her own style, of course, but I think you'll find that the DERANGED MILLIONAIRE's clothing is never too showy. Flaunting wealth, either by your choice of clothing or with a golden wealth flaunter, is considered poor form, for it makes you look anxious.
What is important is that you never look as though you have dressed specifically for a particular occasion, but rather for yourself. Your wardrobe may be dressy or casual,as long as you are dressed in a tuxedo, an authentic Civil War uniform, or whatever makes YOU comfortable. Remember, when YOU are at ease, OTHERS WILL NOT BE.
So here are some suggested outfits for various occasions; in time, you will be able to develop your own sense of which disarming eccentricities look best on you….
FOR THE OFFICE
For gentlemen, a single-breasted suit in a conservative color and a solid tie or club tie. If you must wear shoes, wear two-toed ninja shoes.
For ladies, a tasteful brown turtle-neck Sun pants with pantyhose pulled over them, and then a short skirt made of a bath towel.
FOR "CASUAL FRIDAY"
For gentlemen, try a three-piece denim suit and velvet slippers with little crowns on them.
For ladies, same as above [FOR THE OFFICE], but turn the skirt into a cape.
FOR A SUMMER GARDEN PARTY
For gentlemen, seersucker shorts, a plaid blazer, and a beekeeper's hat.
For ladies, a kicky summer dress made out of Marimekko sheets, worn over a swimsuit made of pantyhose.
FOR A RED-CARPET GALA
For gentlemen, a peak-lapel tuxedo, a simple white shirt (no "wing" collar), a black bow tie, and a black panther on a rope.
For ladies, an evening gown hastily assembled from the red carpet itself.
FOR DINNER ON THE EAST COAST
Gentlemen should wear a coat and tie.
Ladies should wear an evening gown or dark-colored cocktail dress.*
(* These can be assembled from pantyhose and handkerchiefs as needed.)
FOR DINNER ON THE WEST COAST
Gentlemen should wear nothing but a silken robe and tube socks. If the invitation is for "formalwear," gentlemen should add an Ed Hardy t-shirt.
Ladies should be nude.
FOR ATTENDING THE TED CONFERENCE
Gentlemen should wear Patrick McGoohan's white piped blazer from the television program The Prisoner plus khakis and a cravat.
Ladies should dress like Leo McKern.
FOR A MONOCLE PARTY
Gentlemen SHOULD NOT wear monocles.* THAT'S JUST WHAT THEY WANT YOU TO DO.
Ladies may wear opera glasses strapped to their heads with Velcro.
(*However, double monocles – or bimonocles – are acceptable.)
---