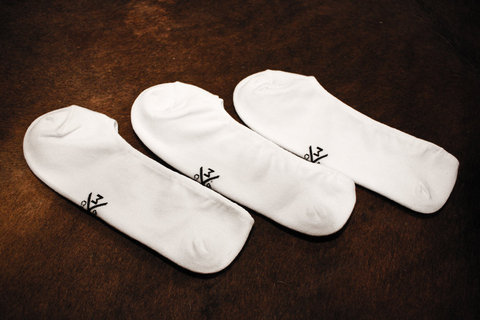 When we posted last week about no-show socks, we outlined a huge variety of choices.  I myself had largely been wearing nylon/spandex socks, which were a bit like a heavier version of those disposable socks you find in the ladies' shoe section.  We linked to Mocc Sock & Co.'s product, and mentioned that they looked nice, but we hadn't tried them.
Lucky for us, the folks from MS&C saw the post and sent a couple pairs along.  I wore one yesterday on a tough travel day (two flights).  They performed admirably.  They're some kind of cotton-spandex mix, with a lot of stretch but also a bit of cushion.  I didn't have any trouble with heel slippage, and they were quite soft and comfortable.  The sides were plenty low enough to disappear below the sides of the old Allen Edmonds saddle shoes I was wearing.
Apparently, others have agreed, because they're on back-order and not shipping until the end of the month.  Well-done.
---