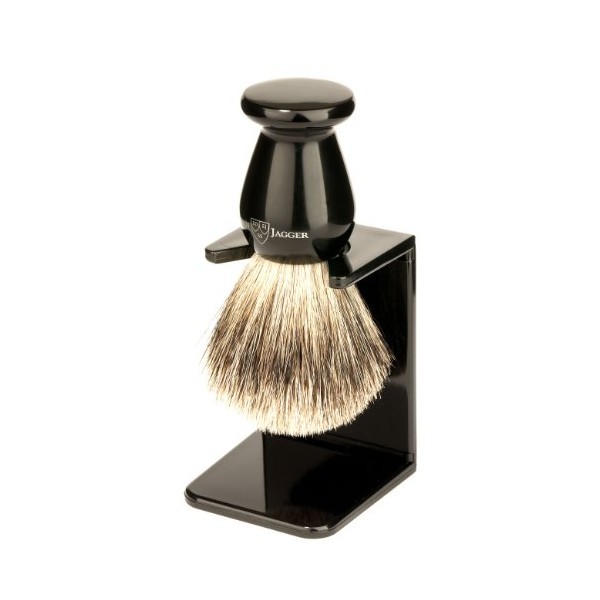 For Christmas I received a brand new shaving brush from my parents and the first thing I did was purchase a stand for it, similar to the one you see above. 
The reason for this was that my last shaving brush had the bristles fall out. At first, I just assumed it was cheaply made and blamed the manufacturer. As it turns out, it was my own damned fault. 
A couple of things can turn even the best brushes bad, but given what i've read they're related to one basic issue: allowing your brush to dry properly. 
My old practice was to use my brush, rinse it out, shake it a few times quite harshly to get the water out and then stand it upright in my medicine cabinet in the bathroom and call it done. This was a far cry from following best practices. 
Water and humidity can harm the epoxy in the base of the brush's knot and cause the glue to stop doing its job. Leaving it to dry in an enclosed area of a cabinet without good air circulation isn't a good idea. Instead, leave it in an open area to dry throughout the day.
As for getting water out of the brush after rinsing, a few articles suggest giving the brush a few light shakes – not hard ones – squeezing the rest of the water out with your hands, and then drying it with a towel. The theory goes that this prevents the knot of the brush separating from the epoxy holding it together and hard shakes can loosen it. 
After reading some forum threads and articles on the topic, there's some disagreement over whether it's OK to let your brush stand upright or to let it hang dry from a stand. I didn't feel like taking further chances and bought a stand for my new one – I figured letting gravity work on any remaining water in the brush could only help. 
Hopefully these new maintenance routines will help my brush last a much longer time. Admittedly, it's a bit more time consuming and a pain, but probably worth doing in the long run if you've made a considerable investment in your badger brush. 
If you want to read a great how-to article on drying your brush, Shaving 101 has a good visual guide. And, of course, if you haven't seen it yet, check out Put This On's grooming episode, 
-Kiyoshi
---