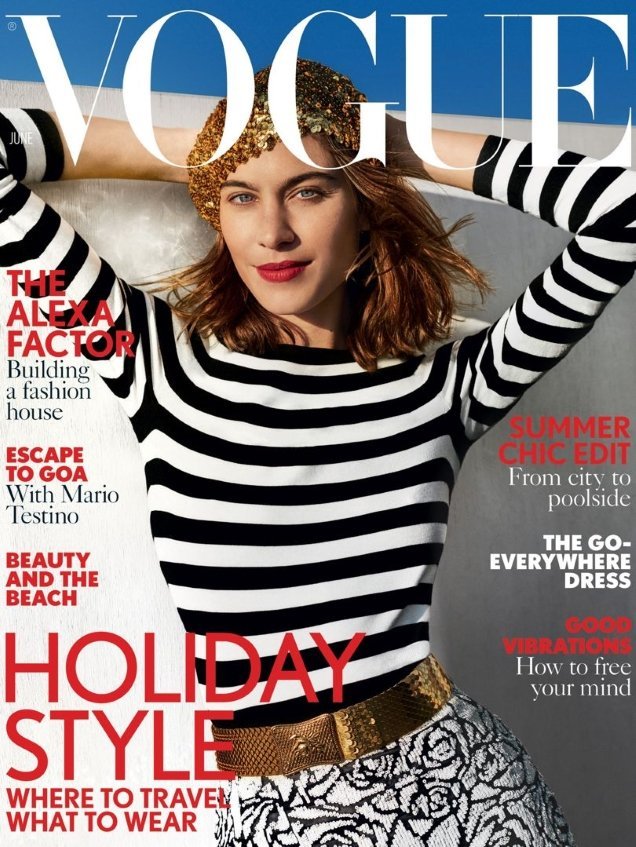 British Vogue fashion director Lucinda Chambers – or rather, ex-director – wrote an incredibly open and honest letter at Vestoj this past week. After having served thirty six years in the biz, Chambers characterizes the industry as disingenuous, vapid, and anxious, with high profile glossies such as Vogue constantly trying to please advertisers. I mean, nothing that should be news to anyone, but surprisingly candid coming from such a high profile figure.
An except on how advertisers get product placements, including on covers (the one with Alexa Chung and Michael Kors is pictured above)
I'm not ashamed of what happened to me. If my shoots were really crappy… Oh I know they weren't all good – some were crappy. The June cover with Alexa Chung in a stupid Michael Kors T-shirt is crap. He's a big advertiser so I knew why I had to do it. I knew it was cheesy when I was doing it, and I did it anyway. Ok, whatever. But there were others… There were others that were great.
On how far you can get in the business on looks and confidence:
I remember a long time ago, when I was on maternity leave, Vogue employed a new fashion editor. When I met with my editor after having had my baby, she told me about her. She said, 'Oh Lucinda, I've employed someone and she looked fantastic. She was wearing a red velvet dress and a pair of Wellington boots to the interview.' This was twenty years ago. She went on, 'She's never done a shoot before. But she's absolutely beautiful and so confident. I just fell in love with the way she looked.' And I went, 'Ok, ok. Let's give her a go.' She was a terrible stylist. Just terrible. But in fashion you can go far if you look fantastic and confident – no one wants to be the one to say '… but they're crap.' Honestly Anja, you can go quite far just with that. Fashion is full of anxious people. No one wants to be the one missing out.
On how fast fashion is making the industry increasingly unsustainable:
The rise of the high street has put new expectations on big companies like LVMH. Businessmen are trying to get their creatives to behave in a businesslike way; everyone wants more and more, faster and faster. Big companies demand so much more from their designers – we've seen the casualties. It's really hard. Those designers are going to have drink problems, they're going to have drug problems. They're going to have nervous breakdowns. It's too much to ask a designer to do eight, or in some cases sixteen, collections a year.
On the general anxiety fashion feeds on:
There are very few fashion magazines that make you feel empowered. Most leave you totally anxiety-ridden, for not having the right kind of dinner party, setting the table in the right kind of way or meeting the right kind of people. Truth be told, I haven't read Vogue in years. Maybe I was too close to it after working there for so long, but I never felt I led a Vogue-y kind of life. The clothes are just irrelevant for most people – so ridiculously expensive. What magazines want today is the latest, the exclusive. It's a shame that magazines have lost the authority they once had. They've stopped being useful. In fashion we are always trying to make people buy something they don't need. We don't need any more bags, shirts or shoes. So we cajole, bully or encourage people into continue buying. I know glossy magazines are meant to be aspirational, but why not be both useful and aspirational? That's the kind of fashion magazine I'd like to see.
---