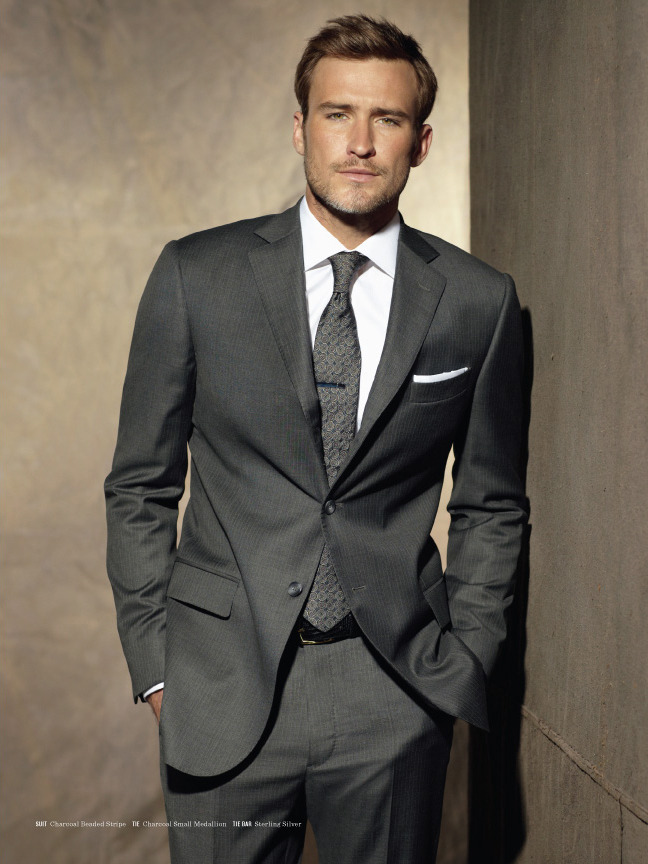 It's probably be a bit too early for me to say, but I think J. Hilburn could revolutionize custom clothing.
The current market for custom clothing is, roughly speaking, separated into two camps. On one side, you have custom tailors who typically serve a local area, but sometimes also travel to different cities. All of the best custom clothing operations are of this breed. The problem with these operations is that they tend to be somewhat costly, not only in money, but also time if you don't happen to live close to the tailor.
On the other side you have online made-to-measure operations. For these, a customer submits his measurements, selects a fabric, and chooses from a number of customizable options. The company then forwards these specifications to a factory they've partnered up with (typically ones in China), and the shirt is shipped out to you once it's made. The upside is that these garments tend to be more affordable and customers can buy them even if they don't live in a major city. The downside, however, is that certain things can't be accurately accounted for in the measurements, such as the slope of your shoulders or your natural posture, all of which can affect how well a garment fits. You also can't handle the fabrics, which means you won't be able to tell how it wrinkles or whether there's a sheen that will affect how it looks when it's moving. There's a large number of tactile dimensions to fabrics that you'll simply just miss out on. Additionally, since you can't visit the tailor to show him or her how the finished garment fits, you won't be able to get a professional opinion on how to improve future iterations.
Perhaps most importantly, however, is that online MTM companies lack control over how you're measured. In the end, almost everything hinges on the accuracy of your measurements and how well they correspond to the factory's conception of how something should be measured.
I have seven sets of measurements of myself – ones taken by Ascot Chang, Spoon Tailor, J. Hilburn, Franz Custom Tailors, Advanced European Tailors, a personal friend, and myself. None of them agree with each other. Some measurements even vary by as much as an inch. The problem isn't just in the skill of the person measuring you but also in how each person conceptualizes the way a measurement should be taken. By not having in-house control over the measurements, online MTM companies are more at risk for error.
A Third Model
J. Hilburn has come up with a third model. They've trained a national network of "style advisors" to come to your office and take your measurements according to J. Hilburn's specifications. These advisors also look for things such as the angle of your shoulders and ask you how you like your shirts to fit. Since you're working with someone in person, you can put on some of your shirts and say what you like and don't like about them. This gives your advisor an idea of how best to design your custom shirt. The style advisor also brings with them a swatchbook, so that you can actually handle the fabrics you're buying. Finally, once your style advisor delivers your shirt, you can put it on for them to see, so that they can take notes of how to improve future iterations.
Where this kind of skilled service typically comes at a high cost, J. Hilburn makes custom shirts for as low as $80, which is about $10-20 more than a typical off-the-rack shirt from brands like J Crew.
When I first learned about the company through Lawrence, the blogger behind Sartorially Inclined, I admit I was a bit skeptical of model. I had the impression of a menswear equivalent of Tupperware ladies – where a company threw a bunch of products at someone and sent them off on sales missions. I couldn't have been more wrong. The style advisor that showed up at my home was clearly well-trained. She knew how to properly take measurements and was very informed on fabrics and fit. I had a conversation with her in the way I would have with any custom tailor. The only thing she didn't know were the details regarding the fusing and interlining of collars, but to be fair, few people know those things.
Of course, the real test is whether the shirt fits well. My first shirt is coming in a week or two, so I can't comment on that yet, but I will write about it in my upcoming series on custom shirts.
An Expansion into Custom Suits
Most interestingly, J. Hilburn now has a custom suit program. The suits will be made in Portugal, in the same factory that makes garments for Paul Smith, Incotex, Burberry, Zegna, and Armani. The fabrics will come from two famous Italian mills, Guabello and Vitale Barberis Canonico (VBC). Guabello is a 200 year-old mill that sells luxury wool fabrics to houses such as Kiton and Oxxford. VBC is one of Italy's largest mills and they supply reputable operations such as WW Chan and Brooks Brothers with many of their standard cloths. The suits will also be half canvassed, though not with a floating canvas. All in all, however, it looks like some quality stuff.
Like their shirts, J. Hilburn's suits will be based off of your measurements, taken by one of their trained style advisors. Once your measurements are taken, you select one of two fits – tailored or classic. The tailored cut supposedly fits a bit like Isaia, with a cleaner body, shorter jacket, and higher armholes. Classic is a bit fuller and supposedly fits like Zegna's Roma model. You can also specify the buttons (two or three), vents (center, side, or none), and pockets (besom with or without flaps, ticket pockets, hacking pockets). There are twenty five different fabrics to choose from, and some interesting seasonal options. For fall and winter, they have a 16 wale corduroy and a range of flannel wools. For spring and summer, they have tropical weight wools and linen blends in solid and fine line stripes. They also plan to introduce a peak lapel jacket and double breasted jacket by the end of the year.
Suits start at $700 and sportcoats start at $525. It an incredibly impressive price given that they make jackets in the same mill, using the same fabrics, as say, Zegna, which charges about $1700 for a suit. Of course, again, everything is about fit. The line is new, so I neither have first hand experience or seen anything from other customers. If it fits decently, however, I think J. Hilburn might have just struck a revolutionary new model for custom suit making.
---