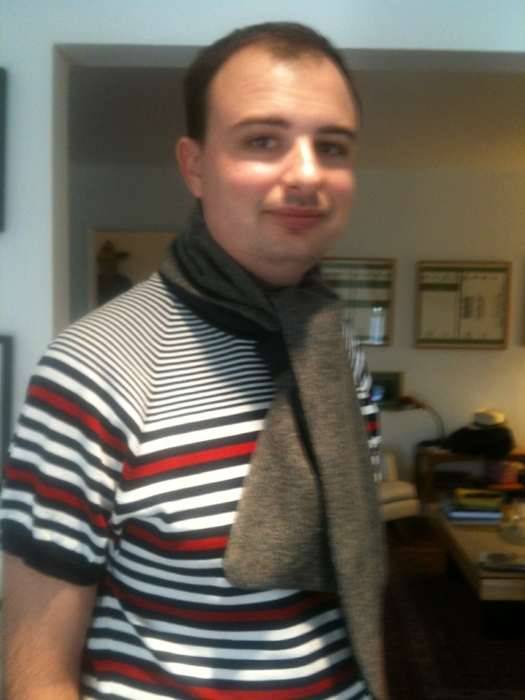 A few months ago, my wife and I decided to learn to sew.  Our ambitions, to begin, were modest.  She would maybe make a skirt, or a romper.  I would make a scarf.
Of course, the sewing classes at my local community college were all-female affairs (with the exception of yours truly), and they were dedicated to making skirts.  Luckily, I was able to pick up enough skill that when my mom found us a sewing machine at an estate sale, I achieved my dreams: a scarf.
First, I bought some Harris Tweed yardage on eBay.  The color is tough to see in the photo – it's sort of a gunmetal gray, with a tinge of blue and flecks of green and blue-green.  Then I headed down to my local fabric superstore (Michael Levine, in downtown LA) for a lining.  I initially intended to go with silk, but was struck by a beautiful linen woven in Italy by Armani.  I'm not a huge Armani fan, myself, but the fabric was undeniable, and had the heft to stand up to the tweed, along with the softness to be next to my tender neck.
I cut the fabric (the scarf is about 6"x70"), pinned it, sewed the edges to bind them, then ran a straight stitch down three and a half sides.  Got my fingers in there, pulled it right side out, and pressed the seams flat with my iron.  Then I closed the hole I'd pulled it through with a bit of Tear Mender, and voila!
Who knows… maybe if you're lucky I'll start a side business.
---