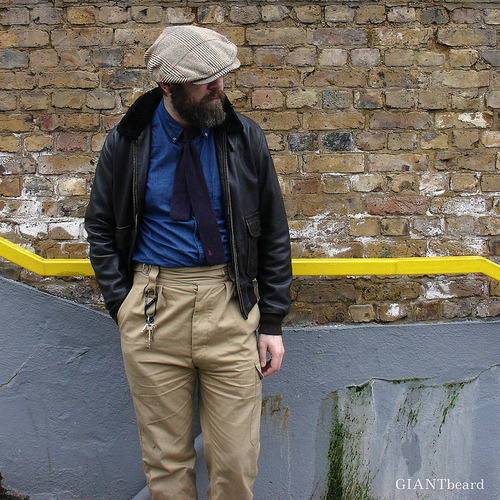 The older I get, the more I've come to accept that I have a fairly boring sense of personal style. Shetland sweaters with button down shirts and chinos; soft shouldered sport coats with flat fronted wool trousers and blue dress shirts; and more recently, white t-shirts, dark leather jackets, and a pair of really worn jeans. Every once in a while, however, I get the urge to experiment more. This past week, I've been thinking about Ghurka trousers for summer.
Ghurka trousers come from that period of history when the British occupied North Africa and India – a time that left a very uncomfortable political legacy, but seems to be a continual source of style inspiration for books, movies, and clothing. They're typically high waisted, made from a heavy cotton drill, and characterized by a unique self-belting design. That belted rigging allowed British officers to easily cinch their trousers as they lost weight – an issue I definitely haven't experienced as I've entered my 30s. Still, I find their unique style very appealing. They draw to mind all those beautiful safari images in old Banana Republic catalogs, before Banana Republic was bought out by The Gap.
A couple of weeks ago, StyleForum member TTO posted a photo of himself in some Ghurka trousers, which reminded me of a very military-inspired look Five once posted at Superfuture, which in turn reminded me of a photo of Ralph Fiennes in Anderson & Sheppard's vanity book. Granted, none of these are looks I could see myself wearing, but these photos do inspire. 
Ghurka pants have been offered in the past by Japanese workwear brands such as Engineered Garments and Haversack, as well as American "dad outfitters" such as J. Peterman and JL Powell. Pete also wrote about them when he covered Whillas and Gunn for StyleForum, and I've seen old Ralph Lauren versions on eBay. Some of these are still being offered; some not. I noticed that J. Peterman, for example, still sells theirs.
TTO tells me he's tried the ones from Silverman's and What Price Glory. The Silvermans are simpler and less cluttered, as they have no extra pockets or button-down belt loops. They're also sturdier in their fabric and stitching. The downside is that they're rather short (measuring a ~29.5" inseam on a pair of 36" waisted trousers). This is probably historically correct, as British officers most likely wore these with gaiters and boots, but they might be too short for the modern style enthusiast. What Price Glory's pants are longer, but they come with a bit more detailing, which may or may not be to people's taste.
The other option are Ghurka shorts, which Jesse has written extensively about. Engineered Garments and Go Fujito have made versions of them in the past, and styled them in ways I wish I was cool enough to pull off.
(Photos via Giant Beard, Five, and To the Manner Born)
---