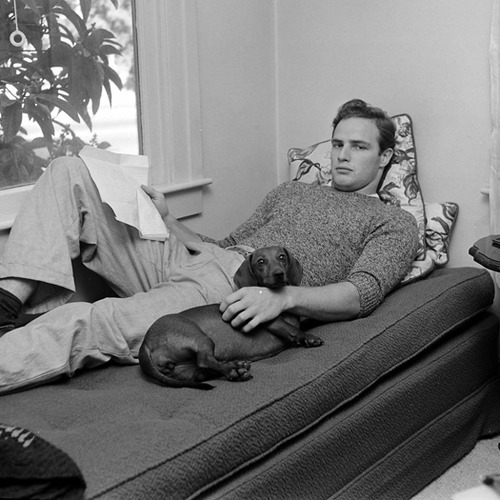 I don't know if it's too early to talk about knitwear, but I've been thinking about flecked sweaters a lot lately. Sometimes these are called speckled sweaters, sometimes Donegal sweaters, and sometimes even tweed sweaters. Not because they're actually from Donegal (a county in Ireland), but because the irregular flecks of color on these yarns are reminiscent of the region's hallmark tweeds.
The nice thing about flecked sweaters is that they can add a bit of visual interest where a solid knit might be too boring. I find this useful when wearing a sweater alone (over a shirt, but without a jacket). There's just something about a very smooth, plain-colored merino, worn with wool or cotton trousers, that can sometimes feel a bit too uninspired (though, they do work well underneath tailored sport coats).
There are a number of brands with flecked sweaters this fall. At the top of the price pyramid end is Inis Meain, who makes them in a pure cashmere and wool-cashmere blend. Those are available at A Suitable Wardrobe, Barneys New York, Manufactum, and Frans Boone. Inis Meain makes some of my favorite knitwear in the world, and I find their quality to be unsurpassed, but their popularity in Japan and Europe has made them very expensive. If you're not deterred by the price, Barney's also has a few half zip sweaters by Fioroni worth considering.
For something a bit more affordable, check out these options by Drumohr, Billy Reid, Saturdays Surf NYC, APC, and Orvis. J Crew also has something on sale through their Wallace & Barnes line, and an extra 25% can be taken off at the moment with the checkout code FALLSTYLE. Perhaps most promising are these Howlin' by Morrison Shetlands, which come in light grey, charcoal, and red (I really dig the light grey, personally). 
There's also a range of Irish makers, none of whom I have any direct experience with. If you're open to giving them a try, a quick Google search will reveal a number of retailers. Maybe start with Aran Sweater Market, Aran Sweater Shop, and Magee. This seller on eBay also has a range of intriguing options starting at $70.
Most affordable of all is J Crew's mainline. They've done a number of these sweaters in the past and you can still find many of them floating around on eBay. J Crew's knits, from my experience, stretch out pretty easily, but if the price is right, they can be a good buy. This one, for example, is available for $30 (the cut looks pretty boxy though). Mr. Porter also has this blue version brand new for $90. That'll probably make it to their end-of-season sale, where it'll be discounted by 50-70%. 
---