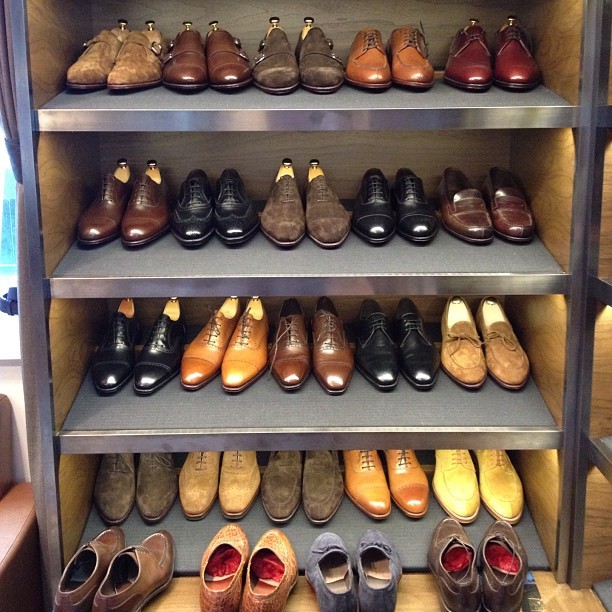 Shoes may or may not be the most important part of a man's ensemble, but they can certainly be the veto point. A man can look sharp as a tack in a well-tailored suit, but if he's wearing dull, square toe shoes, everything was for naught. Unfortunately, nice shoes are expensive. Even the ones commonly recommended as "entry level" brands will retail for $350 or more. So, in an effort to direct readers to where they can find well-made shoes for less, I've compiled a list of every place that I know of.
eBay: The most obvious is eBay. We have a customized search link you can use, but you can also employ other methods. Last week, for example, I talked about how Ralph Lauren shoes are some of the hidden gems on eBay, so long as you know how to look for them. The same goes for shoes made by Brooks Brothers. Theirs don't get as bad as some in Ralph Lauren's range, but you would still be wise to look for indicators of quality. You can also check out sausages234, an eBay seller who specializes in footwear.
Thrift stores: These will take a little more work than doing a search on eBay, but you could potentially walk away with some better deals. The key is in knowing where to thrift and how to spot quality. Use Jesse's series on thrifting as a guide.
Good online retailers: There are two online retailers who consistently have some of the most competitive prices around – Pediwear and P.Lal. It would be smart to check with them before you purchase anything, as they'll often offer price-matching guarantees. You can also check out A Fine Pair of Shoes. They sell really nice English models, and will discount much of their stock at the end of each season. Finally, Franco's will often have shoes on sale. Right now there are a bunch of Rider Boots, which are very well made.
Online discount houses: Likewise, there are a bunch of online discount sites. Classic Shoes for Men, Shop the Finest, and Virtual Clotheshorse come to mind (though the last two focus more on the Italian variety). Sierra Trading Post also regularly stocks Trickers. You can knock 30% off or more if you sign up for their DealFlyer newsletter. Different coupons are released every day.
Affordable brands: There are probably more brands than ever before selling well-made, affordable shoes. Here's a list:
Loake: Loake makes a few different lines, but the one that's generally worth buying is their 1880 range, particularly the ones that are Goodyear welted and made with hard-bottom leather soles.
Charles Tyrwhitt: Many of Charles Tyrwhitt's shoes are made by Loake or equivalent factories. Ignore the lure of sale prices, however. Charles Tyrwhitt's stuff is always on sale.
Herring: I have no first hand experience with the line, but my understanding is that many of their shoes are also made by Loake (or, again, equivalent factories).
Meermin: One of my favorites of the lot. Their shoes are handwelted, which is believed to be a better construction method than Goodyear welting, and they have a semi-affordable made-to-order program. You can read a review I did of them here.
Shipton & Heneage: Shipton & Heneage sells shoes made by various well-respected manufacturers in England and Italy. Sometimes you'll find shoes here selling for less than what the original manufacturers would have you pay. Sign up for their Discount Club to receive coupons.
Made in Maine: There are a bunch of quality shoe manufacturers in Maine. The first that comes to mind is Rancourt, who sells handsewn shoes at a very reasonable price. There's also Town View Leather and Arrow Moccasins, both of whom also sell handsewn shoes, but mostly of the moccasin variety. Those give less foot support, but they can be good for short walks. Additionally, there's Eastland's Made in Maine collection. I bought one of their boots last year, and on the inside, there was a strip of reconstituted leather covering the back (where the heel cup would normally go). The leather fell apart after my third wear, and customer service wasn't terribly helpful, but to be fair, the shoes still wear fine. Finally, a reader of ours suggested Dexter 1957, but I have no first hand experience with them. Reviews online are scant and mixed.
Kent Wang and Howard Yount: Both these companies can usually be relied upon for selling decently made things at lower-than-average prices.
Markowski: I have no first hand experience with this line, but their customers have given positive reports on StyleForum. The shop is based in Paris, but the shopkeepers speak decent English. They also hold sales, which knocks their prices down somewhat even further.
Andrew Lock: Jesse gave a good review of them here (he even had a shoe expert take them apart).
Allen Edmonds factory seconds: The term factory seconds just means shoes that haven't passed the quality control process, but often the "defects" are incredibly minor (like a very small nick). You can contact Allen Edmonds' "shoe bank" store in Brookfield, Wisconsin to make a purchase. Their number is (262) 785-6666.
Suede: Let's say all the above are still out of range to you. If you can't afford higher-quality shoes, at least aim for suede. They'll generally look better with age than a pair made from corrected grain. Perhaps the most affordable suede shoes I know of are Clarks' desert boots, which sometimes go for as little as $60 on sale. Once you get them, know how to take care of them well, so that you get as much out of your purchase as possible.
---