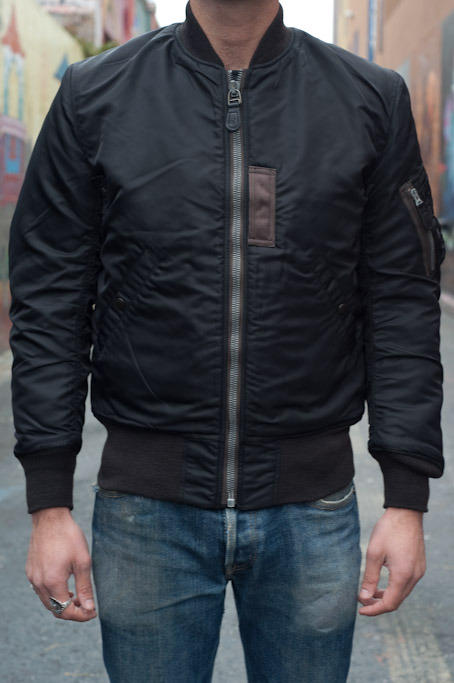 In the last couple weeks at Put This On we've set up midcentury utility- and sportswear as ideal for easy, versatile, and durable casual clothing–check out Jesse's take on the gray sweatshirt and Derek's post on Levi's 1947 model 501s. I didn't want to leave out the third pillar of a wardrobe based on repurposed gear: military surplus. Specifically, jackets. I'm focusing today on non-leather jackets; I'll get to leathers later this week.
Years in service: 1950s to 1980s
A nylon, synthetic-fill, knit-collared jacket developed for the pilots of modern jet aircraft, the MA-1 has been a civilian favorite for decades. MA-1s are lightweight, warm, and usually cheap. Replacing older, leather flight jackets, the mil-spec models changed some over the years—modifying fabrics, adding pocket flaps and bright orange lining—but the cropped, almost turtle shell silhouette has remained. MA-1s became popular with punk rock kids and skinheads in the 1970s and early 1980s, and the complex subcultural connotations have made them a prime source for designer and high-street-shop interpretations from Helmut Lang, J. Crew (women's, in this case), and many others. This Third Looks feature on the history of the jacket goes into more detail. They tend to run roomy in the chest and shoulders compared to most civilian outerwear, and give even waifish wearers the appearance a hulking upper body. Writer William Gibson is semi-obsessed with the MA-1; shown above is a meticulously detailed version he worked on with Buzz Rickson.
Years in service: 1943 to 1950s

Introduced late in World War II, the M-43 was a durable uniform for soldiers in the field that evolved from pre-WWII uniforms, which seem closer to modern "dress" clothes than battlewear. (Many jackets are designated by the year they entered general service; in this case, 1943.) The jacket from the M-1943 uniform has real lapels rather than a shirt-style or stand-up collar like later field uniforms–I hesitate to say you could wear a tie with it in a modern context, but it would be less out of place than with an M-65. The M-43 was the first uniform to use tightly woven olive drab cotton sateen rather than lighter, less weatherproof fabrics. At the Front, a shop that specializes in supplying re-enactors with accurate representations of period uniforms, has a history page with deep details on the M-43. They also sell a repro version; I can't personally vouch for the quality, but ATF is clearly serious about their mission. They're of course available vintage.
Years in service: 1951 to 1960s
The M-51 field jacket was made from the same cotton sateen as the classic field trousers/fatigue pants.  The jacket had a shirt style collar that took an attachable hood, and closed with buttons and a zipper (older field jackets used buttons only). Although not as popular as the similar and ubiquitous Vietnam-era M-65, the 51 is a great jacket and a clear evolutionary marker between older field jackets, which look almost Edwardian, and modern BDUs. Orvis currently sells a nylon version; Schott has a lightweight take; I prefer vintage.
Years in service: 1951 to 1960s
Searching for M-51 field jackets can be confused by the predominance of the M-51 fishtail parka, perhaps the ideal case study of a mil-spec garment adapted by a subculture—in this case, mods. These hooded, cotton sateen jackets were designed with an elongated back ending in two points (hence fishtail), intended to be fastened to the front of the jacket when worn to provide additional protection against the elements. Of course, no one does that; it seems more complicated than it's worth. But it helps that the parkas, worn long, fit over sharp suits and protected Vespa-riding mods from road splash. Since the 60s peak of mod music and style, the fishtail parka has endured, and designer versions like Raf Simons' above abound. Vintage models can get pricy as there's a lot of demand, but new civilian takes are widely available. (Other fishtail parkas exist, but the M-51 is generally considered the go-to model.)
Years in service: 1965 through the 1970s
The M-65 was the field jacket of the Vietnam war, and in part because casual wear of military garb spiked in the post-war 1970s, it's pretty much the jacket you're thinking of when you think "wearing a surplus Army jacket." It's the Travis Bickle jacket and the Lindsay Weir jacket. Serpico wore one. It has roomy front pockets, a hood that stows in the stand-up collar, and shoulder passants. The M-65 zips closed and its cuffs can be adjusted with velcro. Like many of these field jackets, M-65s are cut large to accommodate liners, so if you're buying vintage you can often afford to buy a size down, although you risk short arms. Alpha was the primary contractor making M-65s when they were issued, and they still make a decent version today. I really like the M-65-influenced field coats that Patrik Ervell has been designing for a few seasons; in moleskin or wool, they are more refined in fabric and cut than more faithful repros, and they're pretty expensive. Like anything else though, they can occasionally appear on ebay or discount sites.
Years in service: 1959 to 2000s
The distinctively fur-trimmed N3B parka (or snorkel parka) is likely the warmest of the surplus jackets. The original parkas were intended for wear in prohibitively cold conditions, and are longer and heavier than most other jackets listed here. They have slant packets at the chest and flap pockets lower on the coat, and a panel that fastens with loops across the zipper to keep out wind. Most modern versions use synthetic fur around the hood. Vintage versions aren't quite as in demand as fishtail parks, and so aren't as expensive as one might think (although vintage fur can be, frankly, gross).
Years in service: 1980s and 1990s
This French jacket is the only non-U.S.-originated piece on my list. It started popping up more in a civilian context in the mid 2000s when people were looking for a more fitted milsurp jacket than they had in the past. Hedi Slimane designed an F2-style jacket for Dior Homme in 2005. Widely available in European surplus shops, it was also a rarity in the United States, adding to its appeal here. F2s have pointed lapels that arguably look best turned up, two vertical zip pockets on the chest near the buttoned closure, and two lower flapped pockets. The hem and cuffs are trimmed with some elastic, which can wear out on heavily worn models. Vintage models are sized by chest size and generic lengths (i.e., short, medium, long), and they definitely fit smaller than U.S. jackets in parallel sizes. Brands like APC regularly make versions of the F2, their sizes are more reliable.
Shopping for jackets
Almost all of these jackets are available vintage (e.g., previously issued to and worn by the military), new civilian (e.g., Alpha's slim fit models), or designer (e.g., the Raf Simons fishtail parkas). Your best choice depends on what you value in a jacket:
Vintage models can be cheap, well-made, and full of character (and sometimes cigarette smoke) but condition and fit are widely variable.
New civilian models often fit well and reliably, but construction and materials are sometimes not as strong as the originals on which they're based. If you want your military jacket made in the United States, few jackets in this category are.
Designers interpret originals in interesting ways, and such models can be made to very high standards, but they're expensive. And more refined fabrics can also be fragile relative to military surplus.
If you're shopping vintage, a few things to keep in mind:
These jackets have been made for actual military use, but also specifically for civilian use for decades. So vintage does not necessarily mean made to military specifications.
Some vintage jackets retain patches and insignia from previous owners, and wearing genuine military patches as a civilian is controversial, especially among veterans.
Most of these pieces weren't designed to be worn with jeans and a tshirt; they were supposed to be worn as part of an ensemble issued for specific deployments. Because they were meant to fit over or under other layers, vintage pieces can be tough to size. Check measurements and for best results be a little more flexible on fit than you would be for a sportcoat.
High prices often mark an item high in demand by collectors, who know what details mark rare or desirable jackets. Collectors sometimes seek specific pieces from specific contracts between the U.S. military and manufacturers. For normal wear you don't need to be that picky.
You should be able to find a decent condition version of any of these jackets for under $100.
---