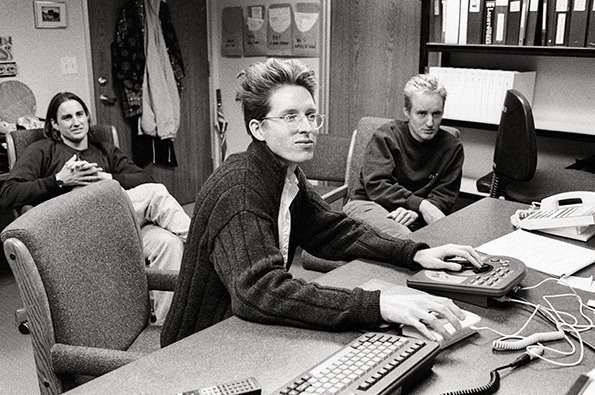 Wes Anderson's first film Bottle Rocket (1996) feels like practice; it has a lot of good moments, a lot of potential (Roger Ebert didn't recommend it, but said he looked forward to what Anderson would do next). But it's not immediately clear from BR that Anderson, when given more resources to work with, would go on to be of the most stylistically distinctive directors of the decade to follow. Detail-rich, intricate sets; dry, deadpan dialogue; and self-deluding charmers are now familiar aspects of his film style–I look forward to more in the upcoming Grand Budapest Hotel.
Anderson's personal style has also evolved over the years–above is a series of photos of the director while he was making BR, Rushmore, The Life Aquatic, and Moonrise Kingdom. In the Bottle Rocket shot, his clothing seems incidental; thrift store casual, hair disheveled after hours editing (OK; I'm extrapolating). For Rushmore, in sneakers and a more interesting jacket, but still very much "I woke up this morning and these clothes were clean." After Anderson worked with a tailor to develop the costumes for The Royal Tenenbaums, he began to wear more suits, and today he's known for his natural shoulder, casual fabric suits and Clark's Wallabees. In those last photos, you see his current "uniform." I wanted to show photos of Anderson working, but this shot from Cannes also captures his style well.
Anderson films' wardrobes seem to have evolved in parallel. All Hollywood films have costumes, of course, but Anderson's characters show conspicuous interest in their own clothing and outward appearance, and the impressions they make (or that the characters hope they'll make). Consider Max Fisher's tidy prep school uniform (where other Rushmore Academy students are less tucked-in), Chaz Tenenbaum's rack of repp ties (sober and traditional, to go with his preternatural understanding of finance) and Adidas tracksuits, or the brothers' matching gray suits in Darjeeling Limited. For a solid breakdown of Anderson costumes film by film, check out Wax Wane's posts on Wes. I'd argue that what Amelie did for women's style in the 2000s (Anthropologie-style whimsy, flea market whimsy, homemade qualities), Anderson's body of work did for men (bringing back American/prep references, casual and custom tailoring, color).
We're not born with good taste; it's a discernment that develops with use. The arc of Anderson's career shows that he's found what works for him (thematically, dramatically, and stylistically) and stuck with it.
-Pete
---