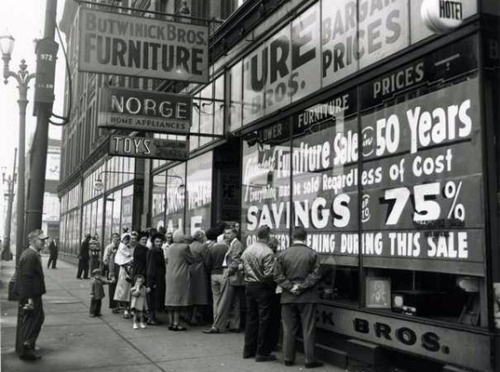 Whew, OK. This list of 150+ Black Friday sales took forever to compile, but we did it. This is possibly the most comprehensive sales list you'll find anywhere. 
Of course, if this is too much to comb through, here are my highlights:
We're holding a sale at the Put This On Shop. Lots of vintage accessories, pocket squares, and scarves, handpicked and put together by Jesse. 16% off with the code RAMPANTCONSUMERISM.
Our sponsors are also holding some special deals: Ledbury is having a 30% off site-wide promotion; The Hanger Project/ A Suitable Wardrobe are offering nice discounts on accessories and luxury hangers; Proper Cloth is giving away free shipping; and Private White VC is doing a 15% off store-wide sale. See below for all the necessary coupon codes. 
For general casualwear, Mr. Porter is top notch. Also worth looking into: End, Gentry, Present, Lissom + Muster, The Bureau Belfast, No Man Walks Alone, Roden Gray, Carson Street Clothiers, and Tres Bien. Again, see below for the appropriate coupon codes. 
For slightly more affordable casualwear, look into Steven Alan, Club Monaco, East Dane, Polo Ralph Lauren, Uniqlo, and J. Crew. The last is always having a sale, but they're also a great source for affordable, well-designed clothing.
For denim and denim-related things, check out Self Edge, Blue in Green, Blue Owl Workshop, 3sixteen, Iron Heart, Independence, Imogene + Willie, Archival Clothing, Superdenim, and Cultizm. 
For dress trousers, check out Dapper Classics (I also really like their solid-colored navy socks). 
If you're looking for shoes, you're in luck. A Fine Pair of Shoes, Allen Edmonds, and Pediwear are great right now for relatively affordable footwear (check out Pediwear's selection of Loake 1880 shoes). If you have a bit more money to spend, however, Skoaktibolaget, Gentlemen's Footwear, M. Classic 101, and Leatherfoot might be more your bag.
Finally, for accessories and small leather goods, check out Chester Mox, Exquisite Trimmings, Shibumi, Berg & Berg, and Equus Leather.
Again, refer to the list below for all your necessary coupon codes. 
Throughout the next few days, we'll update this list as new sales come in. We'll also italicize new listings, so you know what's been just put up. Consider this your Black Friday sale central!
3sixteen: 10% off sitewide with the code BF2015
Acorn: Free shipping on orders over 100GBP with the code BLACK
A Fine Pair of Shoes: 20% off with the code SF20
Allen Edmonds: 50% off select styles
Amazon: Discounted Clarks boots
Apartment 9: $40 off orders over $250 with the code SAVE50; $125 off orders over $500 with the code SAVE125; $300 off orders over $1000 with the code SAVE300
Apolis: 30% off select items
Archival Clothing: 20% off all orders with the code THANKFUL20
A Suitable Wardrobe: Up to 60% off select items
Ball and Buck: 20% off with the code BUYUSAMADE
Baracuta: 30% off select items
Barneys: 40% off select seasonal items
Barney's Warehouse: 85% off clearance on select items
Belstaff: 20% off 
Ben Silver: Free shipping with the code CYBER15
Berg & Berg: 20% off with the code blackfriday
Bergdorf Goodman: Up to 40% off seasonal items
Bespoke England: Discounts on select John Lobb shoes
Blackbird: 25% off with the code XYZ
Blue in Green: 15% off everything with the code FRIDAY (only good for FRIDAY)
Bodega: 20% off everything with the code TWENTYOFF
Billy Reid: 25% off with the code FRIDAY25
Bloomingdales: 15% off $150; 20% off $200; 25% off $250 with the code TURKEY
Blue Owl Workshop: 10% off with the code NEWSITE
Bread & Butter: Up to 40% off undershirts
Breakroom: 25% off most Danner products and 50% off closeouts
Brooks Brothers: Sale on shirts and sweaters
The Bureau Belfast: 15% off with the code THANKS15
Burkman Bros: Up to 60% off select items
Cable Car Clothiers: 25% off with the code HOLIDAY15
Caliroots: 30% off most everything
Carson Street Clothiers: Up to 40% off select items, plus another 20% off with the code THX20
Charles Trywhitt: Three shirts for $99.95
Chester Mox: 25% off with the code THANKSGIVING
Classroom Shop: 20% off select items
Club Monaco: 25% off orders over $150; 30% off orders over $250; 35% off orders over $400. Use the code THANKFULL
Coggles: 30% off with the code BLACKFRIDAY
Cordings: Three shirts for 120GBP
The Corner: Extra 25% off, including on sale items, with the code TCCYBER15
COS: 20% all knitwear with the code KNIT20
Creatures of Comfort: Up to 40% off
Crown & Caliber: Up to 40% off select watches
Cultizm: 15% off with the code BF15
Dapper Classics: 30% off all purchases with the code BLACK15 (applies to items in the sale section)
Dents: Up to 30% off select models, and then another 10% off if you sign up for their mail list
East Dane: Up to 25% off, depending on how much you spend. Use the code GOBIG15
Ebbets Field Flannels: 25% off with the code cyber15 (some exclusions, such as Triple Play)
Emmett London: 10% all items with the code blackfriday
End: 20% off select items
Epaulet: 10% off sale items with the code Black-Friday-Only; also price drops on select items
Equus Leather: Buy one belt and get a 25% discount on a West End Bridle Leather belt
Exquisite Trimmings: 20% off with the code BLACKFRIDAY. Excludes sale items and house label stuff. Also, free shipping on orders over 200GBP
Far Fetch: 10% off sale prices with the code bf15
The Field Outfitting: 35% off sitewide with the code 35OFFSITEWIDE
Flannels: Up to 30% off
Frances May: 25% off with the code Bookends
Freemans Sporting Club: 25% off with the code 25TURKEYS
French Garment Cleaners: 25% off select items with the code HOLIDAY15
General Quarters: 25% off select items with the code MASEDPOTATOES
Gentlemen's Footwear: 10% off with the code extra10 (applies to sale items)
Gentry: 30% off with the code BF35
Goruck: Up to 40% off black rucksacks 
Graduate Store: 30% off select items
The Great Divide: 30% off with the code BLK30
Guideboat Company: Up to 20% off on e-gift cards, depending on how much you spend
Haberdash: 20% off select items with the code BLACKFRIDAY20
Haerfest: Sale on select bags
The Hanger Project: Up to 60% off select items
Haven: 20% off with the code BLACKWKND
Harrods: 10% off all items when you sign up for Harrod's Rewards Program
Hickoree's: 25% off with the code SHOPSMALL
HN White London: 30% off orders over 100GBP with the code blackfriday
Huckberry: Discounts on select items (good deal on Apolis chore coat here)
Hunting Ensemble: 30% off with the code BLACKFRIDAY
Hypebeast: 30% off with the code BL30
Imogene + Willie: 20% off everything with the code WTHBF
Independence Chicago: 25% off all blue and indigo items; 15% off everything else
Indigo & Cotton: Holiday sale
Iron Heart: 40% off select items
Jack Spade: Up to 75% off surplus items
JC Penney: 25% off orders over $150; 20% off orders over $100 
J. Fitzpatrick: Select items on sale
John Smedley: 20% off with the code FFAW15
Jonathan + Olivia: 40% off select items
J. Crew: Up to 40% off with the code HOLIDAY
J. Peterman: Sale on select items
J. Press: 25% off select items (includes Shaggy Dogs, although note they have low armholes)
Jules B: 20% off select items
Kafka: 15% off with the code KAFKA15
Kapok: 25% off on all orders over $130
Kiehl's: $20 off orders over $65 with the code JINGLE
Kiriko: 20% off with the code KINYOUBI
La Portegna: 20% off everything with the code BLACKFRIDAY15
Leatherfoot: 15% off with the code thank15
Ledbury: 30% off site-wide 
Levis: 40% off select items
Lissom + Muster: 20% off all orders over 20GBP with the code BLACK20
LL Bean: 10% off with the code THANKS10
LN-CC: 30% off select items with the code LNCCBF30
Maas & Stacks: 25% off with the code givethanks
Maison Margiela: Fall/ winter sale. 40% off select items

Makr: 20% off sitewide
Malford of London: 30% off all orders with the code BLACK30
Marcellino NY: 15% off any briefcase or leather good made from Sedwick leather in either dark green or oxblood red
Massimo Dutti: 30% off select items
MaStrum: 30% off with the code BLACK30
M Classic 101: 10% off everything with the code extra10
Memes: 40% off with the code THANKS40
The Merchant Fox: 20% off all blankets with the code WARM1
Mismo: 20% off everything with the code blackfriday2015
Mohawk General Store: Spend $150, get a $25 gift card; spend $250, get a $50 gift card; spend $450, get a $100 gift card
Monsieur Fox: 20% off orders over $100 with the code Holiday2015
Mountain & Sackett: 25% off all ties with the code SHOP25
Mr. Porter: 30% off select items (some items only show discount once you go to the second page of the checkout process)
Need Supply: 25% off select items with the code FRIDAY25
Neighbour: 15% off seasonal merchandise (prices are also in CAD, so lower if you're paying in USD)
Next Door: 30% off select items
Nike: 25% off clearance with the code GETOUTTHERE
No Man Walks Alone: Up to 30% off select items
Nordstrom: Extra 25% off select items
Norse Store: Up to 60% off select items
Notre: 30% off with the code BLACK FRIDAY
Number Six London: 30% off with the code LOYALTY30
Oak Room: Select shoes on sale at 40% off, but you have to email them for the list
Oak Street Bootmakers: 20% off sitewide
Oi Polloi: 15% off all orders with the code SABBATH
Okayama Denim: Sale on select items with the code BLKFRI15
Oki-Ni: 30% with the code BF30
Online Shoes: $125 for a pair of Chippewa boots with the code BF30
Opumo: 25% off with the code BLACKDEAL
Orlebar Brown: 20% off with the code BLACK20
Orvis: 30% off select items
Other Shop: Up to 30% off
Ovadia & Sons: 30% off with the checkout code SALE30
Patrik Ervell: 30% off select items with the code PEABF30
Paul Evans: $25 off any shoe purchase with the code Black Friday
Paul Smith: 20% off with the code BLACKFRIDAY
Pediwear: 20% off all orders over 150GBP with the code BLACK20 (Crockett & Jones excluded)
Pierrepont Hicks: 30% off ties; 50% off outerwear
Present: 30% off with the code BLACKFRIDAY
Private White VC: 15% off everything with the code BLACK
Proper Cloth: Free shipping
Put This On Shop: 16% off with the code RAMPANTCONSUMERISM
Quality Shop: 10% off orders over 100 euros with the code black10; or 20% off orders over 200 euros with the code black20
Ralph Lauren: Extra 20% off sale items with the code TURKEY20
Rancourt: 10% off all regular priced items with the code BLACKFRIDAY15
Res Ipsa: 20% off all slippers with the code CYBERMONDAY
Roden Gray: Up to 50% off select items
Rooney: 30% off regular priced items
Roztayger: 20% off with the code Thanksgiving2015
Saks Fifth Avenue: 60% off select items. Also free shipping with the code HOLIDAY
Scout: 20% off select items
Self Edge: 15% off site-wide with the code LetsDrink2015
Selfridges: 20% off select items with the code SELFCCE
Shibumi: Free pocket square with orders over 200 euros. Just add a note in the comment box with your order. 
Skoaktiebolaget: 15% off with the code BLACK15
Slam Jam Socialism: 40% off with the code BLACK40
SNS Herning: 19% off with the code BLACKFRIDAY
Spier & Mackay: 20% off sitewide with the code CYBERBLACK
SocksFox: 20% off with the coupon code KEEPWARM20%
SOTO: 30% off everything
SSENSE: Up to 50% off select items
Stag Provisions: 20% off pants with the code PANTS20
Steven Alan: Up to 50% off select items
Style Creep: 30% off with the code BLACKFLAG. Good on Buzz Rickson's (including their sweatshirts, but be sure to size up)
Sunspel: 20% off and free shipping
Superdenim: 20% off select items with the code BLACKFRIDAY
Superga: 25% off with the code WOW
Tails: 20 GBP off navy or khaki drill pants with the code GETTINGONWITHFRIDAY
Tanner Goods: Free gifts with certain purchases. 
Taylor Stitch: 20% off in-stock items with the code sizeup
Tommy John: $10 off your order with the code FRIDAY10, plus up to 35% off depending on how much you spend. 
Tres Bien: 20% off most items
Understudy: 20% off with the code SFBLACKWEEKEND
Uniqlo: 50% off denim and dress shirt
Upstate Stock: 25% off with the code BLACKMONDAY
Whiskey Grade: 25% off with the code BLACK25 (although if you buy before 1pm EST on Friday, it's 35% off with the code BLACK35)
Wittmore: 25% off all clothing with the code GOBBLE2015
Woodlore: 25% off storewide (great for boot trees)
Yoox: Extra 25% off plus free shipping on all orders
---