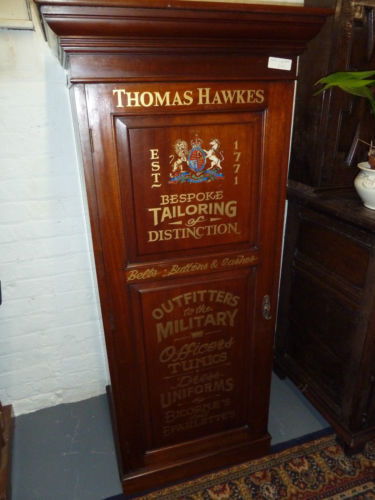 Any time we have some exceptional items in our roundup, it's usually thanks to our friend the RJ cat (who has some of his own auctions up this week, by the way). Today's best find? This knockout cabinet stenciled with a sign for Savile Row tailor Thomas Hawkes (which later merged with Gieves to form the famous Gieves & Hawkes). Unbelievably awesome. 
As usual, we have customized search links too if you want to search for more high-end suits, good suits, high-quality shirts and fine footwear. They'll help you quickly hone in on stuff that's well made.
Suits, sport coats, and blazers
Outerwear
Shirts and pants
Shoes
Ties
Bags, briefcases, and wallets
Misc.
If you want access to an extra roundup every week, exclusive to members, join Put This On's Inside Track for just five bucks a month.
---