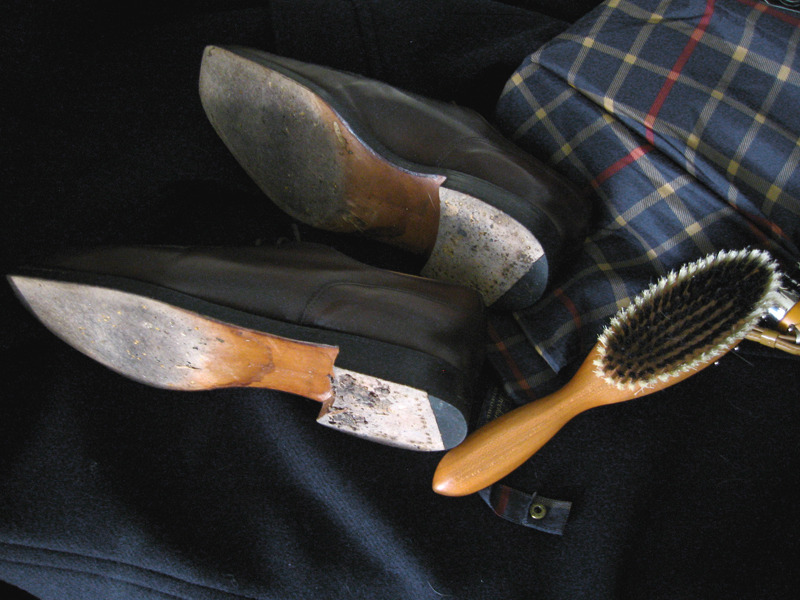 It started raining in the Bay Area this weekend. Really turbulent winds and heavy showers meant that every time I went out even for a few moments, I came home soaking wet. In such weather, it's good to remember how to properly take care of your possessions.
For jackets and coats, you can brush off most of the water with your hands or a Kent clothing brush. Don't stick your clothes in the closet afterwards just yet, however. You want to put them in an area with some good circulation, so they can dry properly. The risk with wet clothes is that they might develop mildew, which is really difficult to get rid of. A night out on a coat rack or something should be enough time to let them recover. After that, hang it in the closet with a hanger that has thick, moulded shoulders. I like the ones from The Hanger Project, but there are other merchants as well, such as A Suitable Wardrobe and, more affordably, Wooden Hangers USA.
Likewise, umbrellas should have time to dry before being furled up again. I shake mine off gently before coming in, and then open it again once I'm indoors and set it on its side. The material used for umbrella canopies are usually quick drying, so this shouldn't take more than an hour or two.
Finally, for shoes, I brush off the big drops, stick in cedar shoe trees, and then lay my shoes on their sides, like I've pictured above. I used to think the last step was kind of unnecessary, until I noticed that my wet shoes were sitting in puddles when I left them on their soles. Moisture can really weaken leather, so you need to make sure your shoes are completely dry before wearing them again. Setting them on their side helps aid that for the parts that are likely to be most damaged.
Whatever you do – whether for clothes, umbrellas, or shoes – avoid the temptation to hasten the drying process by setting things near a heater. You're likely to over-dry your items, which can crack leather and make wool brittle. Heaters can rob these materials of their natural oils, so make sure you leave everything to dry at room temperature. Being patient, as usual, is the way to go. 
---