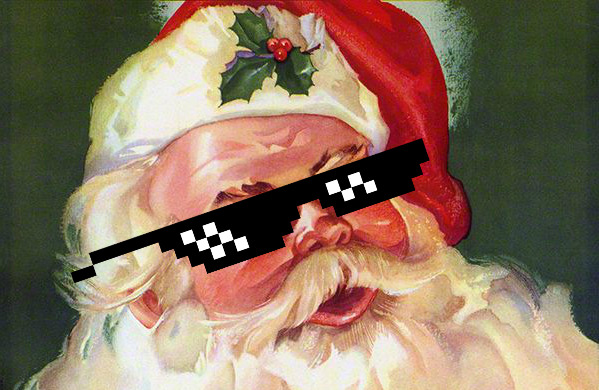 A new vicuna overcoat? A gift certificate for a Panico suit? The New Order fishtail from Raf Simons' 2003 Closed collection? You have about as good a chance of finding those under your blue spruce on Christmas morning as you had of getting the pet lion you asked for when you were 5. 
But whereas you were allowed to sulk, at least a little, when you were in grade school over the gifts you didn't get, you're expected to handle the efforts of your loved ones today with a little more grace. Caring about and for your clothes is a niche interest you can't really expect gift givers to understand or indulge, so when your in-laws give you a gift certificate to Men's Wearhouse or a pair of "fun" socks, you're going to have to smile and say something nice. (Although you can still direct them to the Put This On shop for future reference.)
Keep in mind, giving a gift can be a fraught experience–think of how you feel when someone unwraps something you put some effort and thought into, how you might wince when they open it and wonder if they really like it, how maybe it's not thoughtful enough (or too thoughtful to be appropriate for the relationship). A few basics or grateful receiving to assist those of you who, like me, can be quiet to the point of sometimes seeming ungrateful:
Do
Thank the person giving the gift. For real, sometimes people forget to just look someone in the eye and say thank you. 
Express authentic appreciation for the gift. You can compliment

its utility–"Great, I'll wear this out on New Year's Eve." 
its prescience–"I've been thinking about getting one of these." 
a specific quality of the thing you like, even if overall it's not fantastic–"I dig argyle!"
The thoughtfulness of the giver (the easiest way out in a pinch)–"Very thoughtful of you, I really appreciate it."
Don't
Straight up lie. If you're like me, you won't fool anyone, and risk bruising some feelings.
Deny the gift. "You shouldn't have gotten me anything! I didn't get you anything!" That's not how gifts are supposed to work.
Just say aloud what the gift is. "Oh, it's a Jerry Garcia tie!"
Damn with faint praise. "I didn't expect this! It's… unique."
Whether the person really expects you to love the gift or if they're just going through the motions and feel they owe you one, a legitimate thanks can go a long way. Afterwards you can check out the best post-Christmas sales on Put This On and get something nice for yourself to show just how much you appreciate you.
–Pete
---