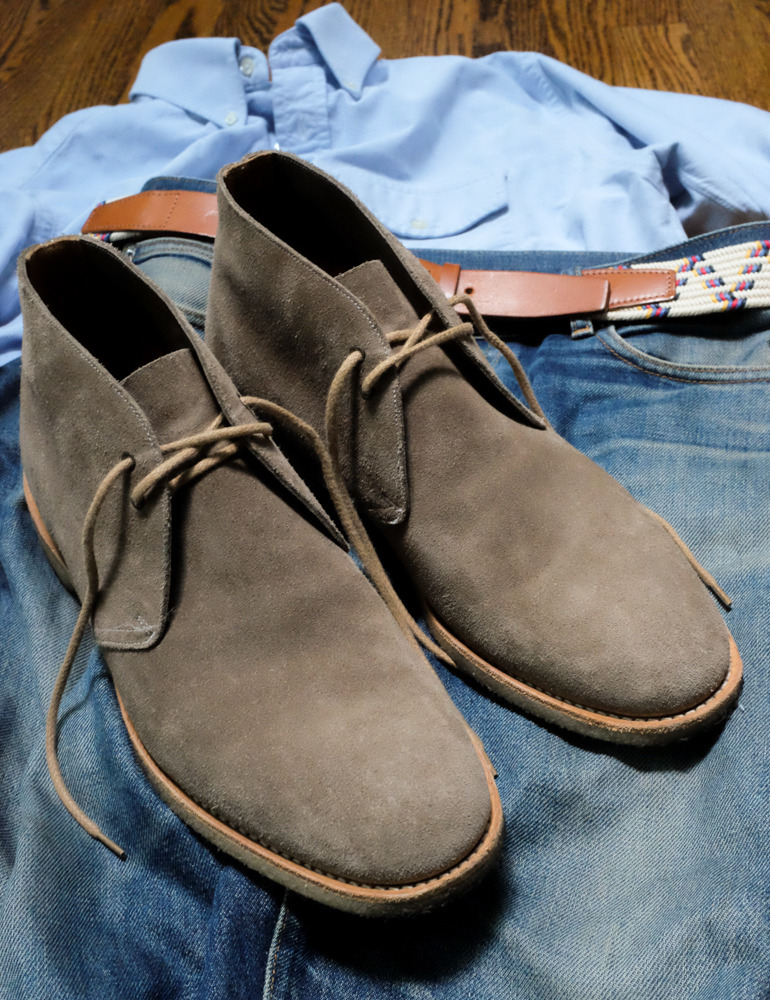 Hi, I'm a big fan of the Clark desert boot. However i think it's time to upgrade. I would like to find an option that is one step up in terms of quality and price. Do you have any suggestions?
Ah, the desert boot. The shoe that launched a thousand menswear blogs. One step up from Clarks unassailably basic desert boot (best in sand suede) is sort of a no man's land of footwear. Clarks boots retail at $120 (although currently on sale <$100 at Need Supply). As you shop up the price ladder, styles vary a little, but quality doesn't too much, until you get into the welted footwear makers; of course, their prices are triple the price of a pair of Clarks, or more. Some options:
A choice so obvious it risks being taken for granted is J. Crew's Macalister boot. Macalisters are a little sharper and shapelier than Clarks and made in Italy of decent if not superlative soft suede. In the range between Clarks and $200, I'd pick the Macalisters. Plus they're on sale for about $100 through May 24 with code PACKME.
Loake makes a desert boot that runs about $150. Loake is a Northampton-based shoe brand but their desert boots are made outside the UK in the EU. A little more interesting than the Clarks, but in my opinion, part of Clark's appeal is their knockaround, anonymous quality. I'm borderline allergic to Loake's darker color versions with contrast stitching.
If you're willing and able to spend more or wait for sales, two upgraded desert boots worth buying are Church's Sahara (pictured above) or the Alden unlined chukka, which is more often sold with a leather sole rather than traditional desert boot crepe.
The Church's version drains any vintage milsurp vibe from the desert boot–Sahara are more narrowly lasted with Goodyear welting with much finer stitching that the Clarks boots. If you're into desert boots for their mod connotations, I think the Church's shoes fit the narrow-trousered aesthetic better than current Clarks. Note that if you have large feet, the slightly longer last and higher lacing may exaggerate that effect.
The Aldens are considered by many the perfect casual shoe. Neither too sharp nor too clunky, they're quite comfortable and go as perfectly with denim as a good leather jacket and a plain tshirt. They're also distinctive looking, with a double line of stitching on the  quarters, which are much less sharply angled than most chukkas/desert boots. The only drawback for me is the cost–about $500 and rarely discounted.  Ebay or other secondary markets are better bets for off price Aldens.
-Pete
---