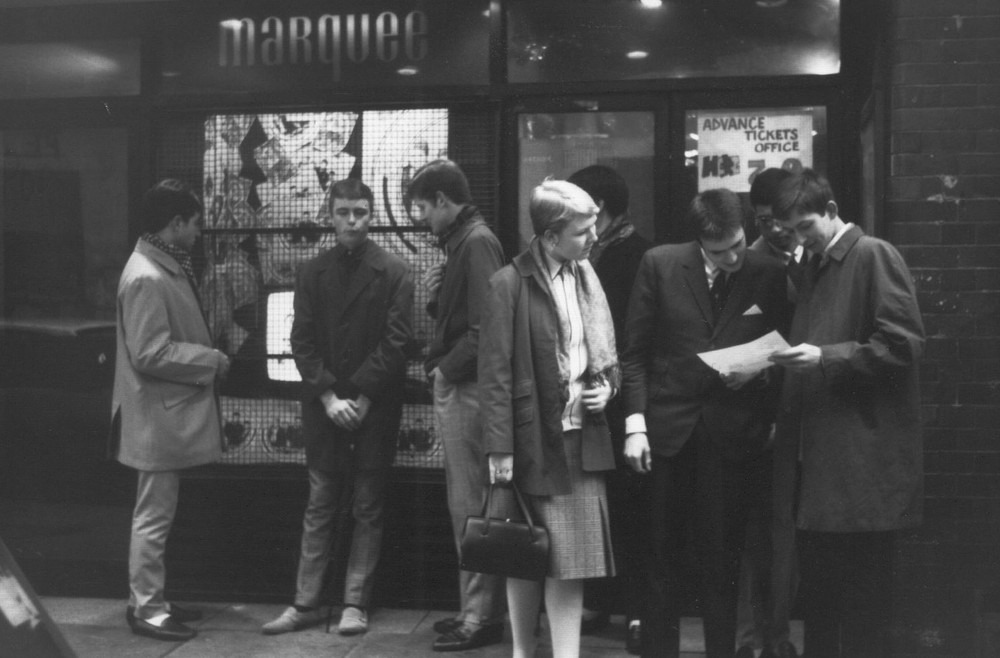 Paul Hallam was a young DJ and photographer during the 1980s mod revival (mod originated in the 60s). Mods were mostly young kids who adhered to a strict (but evolving) dress code and listened (in large part) to Northern Soul, American soul music that was considered minor here but fueled dance floors and record bin diving in England for a long time. Hallam recently published a book of his photos from that era.
I'm speculating here but a lot of mod's appeal for youth in turbulent times is its certainty and authority (even if what mod really MEANS is often up for debate in mod communities). It's a way to differentiate yourself from the crowd (well, one crowd, anyway) and take pride in your appearance, erudition, and attitude. Something I can totally get down with. Plus, even though I wouldn't emulate all the elements of style on display (white socks with loafers? Maybe it looked good on the dance floor), the crombie coats, trim trousers, harrington jackets, and sharp haircuts look as modern as ever.
Hallam recently spoke with Vice and offered some choice quotes about his time as a mod.
People started wearing smart clothes; people were traveling all over
London to buy a pair of shoes. A guy called Mick Franti used to go to
old shops round Whitechapel and Aldgate, and he'd go along and ask if
they had any old stock, and of course he'd go upstairs and find boxes of
old Levis.

There were a couple of guys from Cardiff who used to travel up [to
London]. They maintained that they'd stand up all the way from Cardiff
to Paddington because they didn't wanna get creases in their trousers.

It's about having a bit of pride in everything you do, in the clothes you wear, the records you play.
---