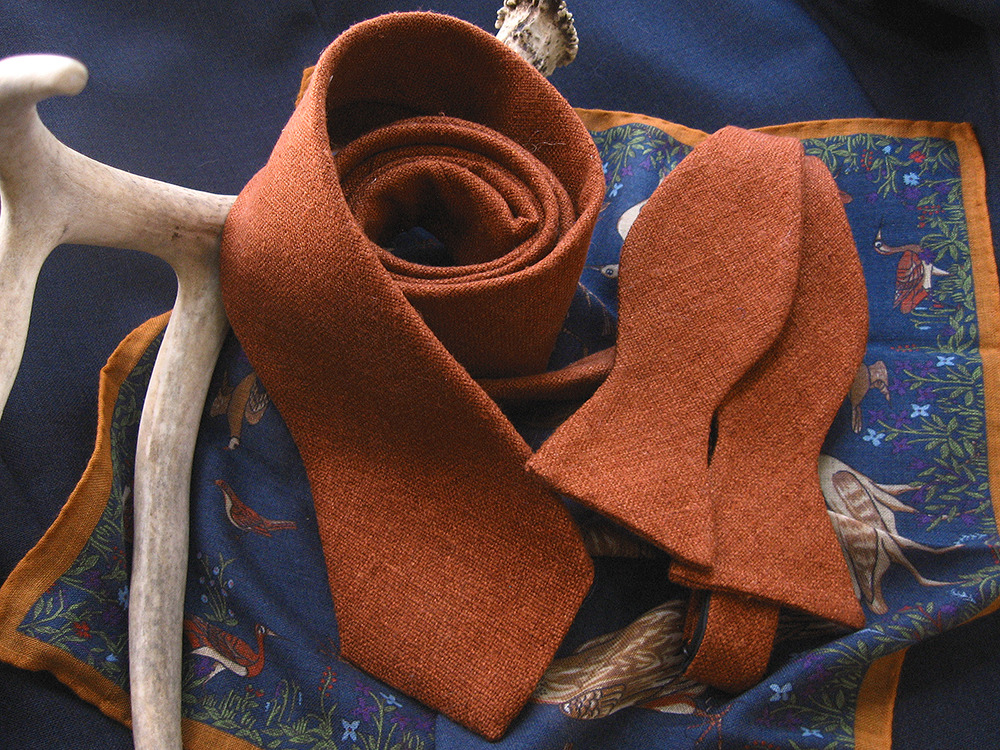 We've been longtime fans of Chipp Neckwear, well before they became one of our sponsors. The reason is, simply, they offer great value in men's accessories for the budget-minded consumer. Chipp's ties are handmade in NYC, using the same fabrics as top-tier producers, but come at a price of $40-50, instead of your usual $100-150. Plus, you get a bit of cool provenance with Chipp. They were a famous clothier during the heyday of classic American style and served as President Kennedy's tailor (along with his brother Bobby). Very well regarded among the Ivy Style crowd.
So what's the tradeoff? Well, less "artisanal" construction, mostly. On Drake's ties, for example, you'll find that the back of the two blades are "tipped" with a fine silk or some other high-quality material, and if they're not, the edges are then handrolled. With Chipp's ties, the edges are flat and folded – much like what you'd find at Brooks Brothers or Ralph Lauren – and the ends are tipped with polyester, rather than silk. Less desirable for the guy who wants something made as finely as possible, but a wonderful value for anyone who doesn't want to pay $100-150 for a tie.
In the past couple of months, the owner of Chipp (Paul) has been working on a new collection of Matka cloth ties. Matka cloth, for those unfamiliar, is an India fabric made from spun silk. It's slubby and textured, much like raw silk, tussah, and shantung, but is woven in a sort of burlap weave. Like those aforementioned materials, it gives some nice visual interest in the warmer months to a suit or sport coat. Think of it as a more seasonal version of grenadine – something textured, but solid colored, which makes it easy to pair with a wide range of shirts and jackets. 
For the time being, Chipp's Matka cloth ties are $35 a piece, but they'll go up to $42.50 once Paul gets around to putting them up on his site. Widths are very classic and middle-of-the-road (3.25" for four-in-hands; 2.5" for bow ties). To order, you'll have to email or call, or visit the shop in NYC. To figure out what colors you're looking at, you can click the photos above and see their descriptions (note, bow ties are missing in two of the photos, but they're available for order). You can also follow Chipp on a new blog they've set up.
---