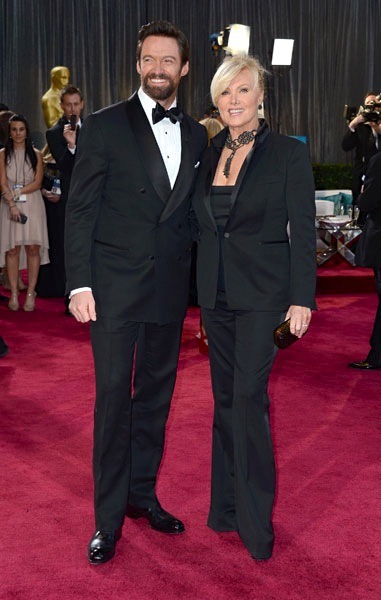 It's easy to lament about the state of black tie in Hollywood during award shows, but some men are worth highlighting for wearing a tuxedo well and with an adherence to tradition. 
Hugh Jackman's tuxedo from Tom Ford was my favorite, featuring a very unique double-breasted shawl-collared jacket and he was one of the few to wear a simple pocket square. The ensemble is quite masculine and reminds me of something you'd perhaps see an actor wear while browsing through old Hollywood black and white photos. And we all know he was actually able to move quite well in it.
And Bradley Cooper's three-piece tuxedo worked equally well, I thought (also by Tom Ford) – especially when comparing how the waistcoat fit him properly in comparison to Ben Affleck's three-piece. The broadness of the peaked lapels looked much more striking in comparison to the many other tuxedos of the night that were notched. 
What I liked about Chris Pine's simple double-breasted 6×2 tuxedo from Ermenegildo Zegna was that it has a simplicity and symmetry to it that feels uninterrupted and quite plain. Where other men were wearing Vegas-club styled black dress shirts or "creative" jackets, this tuxedo up against any of those wins hands down in terms of elegance. 
Finally, it's worth mentioning Christoph Waltz's midnight-blue shawl-collared tuxedo from Prada. I thought it moved with him quite well when he accepted his Oscar on stage and fit him better, especially when compared to the midnight-blue tuxedo worn by Daniel Day Lewis, whose tuxedo didn't quite fit in the shoulders and had divoting. Waltz's jacket could be improved by removing the flap pockets and allowing for more shirt cuff to show, but I liked it quite a bit. 
These four have forgone wearing black shirts, neckties, notched lapels, two-button fronts, flap pockets (excepting Waltz) and have sought to cover their waist with either a waistcoat, cummerbund or by going double-breasted. And because of this, I think they're better-dressed for it. 
-Kiyoshi
---