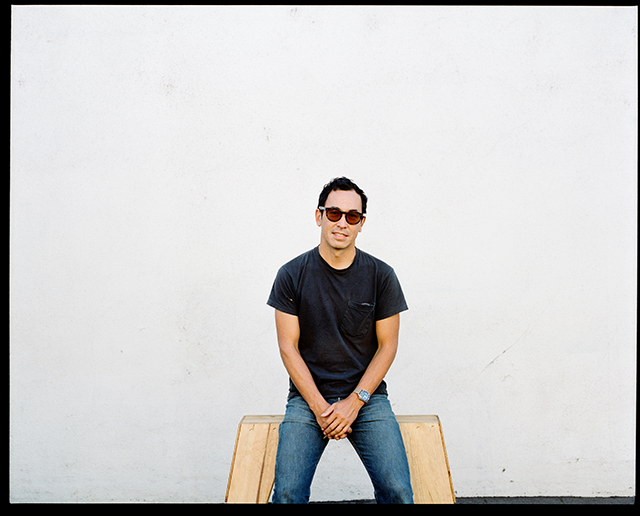 Geoff McFetridge is one of those culturally omnipresent artists who, if you don't know him, you probably know his work. He's designed the titles for films like Virgin Suicides. He helped design the look and feel of the world in Spike Jonze's Her. He worked on Grand Royal magazine; he's done logos for Patagonia, skateboard art for Girl and Chocolate, and, these days, a lot of hangs-in-a-gallery type paintings. McFetridge's work also ends up on a lot of clothing — right now you can buy his Mickey-Mouse-related t-shirts at Uniqlo.
His graphic style is the kind you'd probably call deceptively simple: strong lines; consistent, simple palettes; flat, but with a hand-drawn touch. Also thoughtful, sometimes weird and/or concerned with the metaphysical, and with surprising perspective.
He also has excellent "art dad" style. McFetridge has talked about his personal style a decent amount over the years — he was recently interviewed by Jeremy Kirkland on his show Blamo! — and his personal style seems to reflect his work. He wears simple pieces, cut comfortably, in basic colors. He's concerned with practicality and prefers not to wear the kind of graphic-heavy things he designs for others. The character of Cayce Pollard in William Gibson's novel Pattern Recognition, described as a "design-free zone," is a bit of a minimalist clothing cliche, but I heard echoes of Pollard in McFetridge's conversation with Kirkland:
"I sort of love clothes. I can't leave the house in something that's remotely uncomfortable. I don't wear tshirts with stuff on them. I don't wear sneakers that are doing things. I don't want socks with stuff on them. Gray socks, black socks, white socks."
In photos, he's usually seen in khaki-colored pants or Levis jeans, basic pocket t-shirts, simple sweaters, and work or military style jackets. He often wears thick-rimmed acetate eyeglasses and occasionally has the daddest of facial hair: a mustache. (He has two daughters.)
He told GQ a few years back: "I'm definitely not anti-style; what's the place in between? It's like basic boy." So, pretty much what J. Crew aspired to be in, say, 2015. Of course, McFetridge looks good in this stuff in part because he's a slim, good-looking guy (he once modeled for Jack Spade lookbook). But it's easy-to-wear stuff, and a nice reminder in a time of kitchen-sink style that a wardrobe of solid basics is something to aspire to.
McFetridge has always been driven to make things (see this awesome old Apartamento piece on things he made for his daughter) and has said he will DIY tailor his clothes, something he's done since being a skate kid in the 1980s. In his art that involves people, he tries to keep the clothing basically anonymous, which to McFetridge means Dickies and a tshirt.
"When you draw people, unless they're in bathing suits, they're in clothes—you know. I don't really want to address it directly in the work, but everyone's kinda wearing Dickies. Not because I'm like, "Dickies are cool." It's more like, "I'm not wearing clothes, I'm wearing a Hanes t-shirt and Dickies."
---