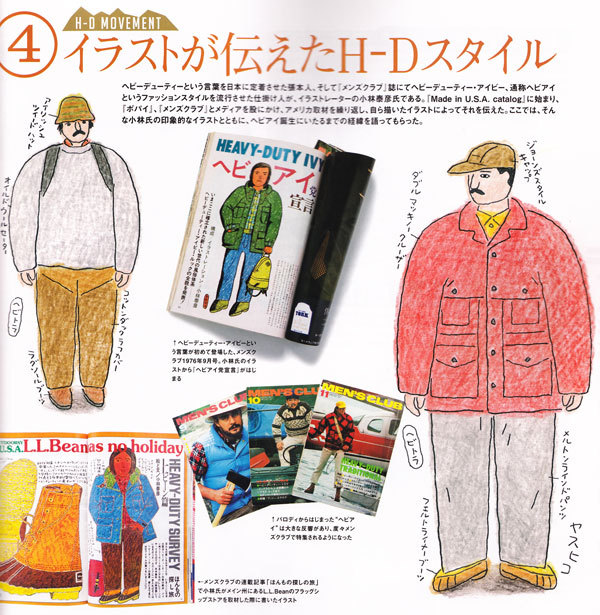 In the 1970s, shortly after Japan fell in love with Ivy Style, the Japanese started noticing that American college students were no longer wearing neckties with tweed jackets to classes. Instead, many were repurposing outdoor brands such as Sierra Designs and Eddie Bauer into their everyday attire. Certainly, the oxford-cloth button-down remained popular, but instead of hook-vent sport coats and striped rep neckwear, students were wearing 60/ 40 parkas, Levi's jeans, and Champion sweatshirts.
The look was later coined "Rugged Ivy" (or sometimes "Heavy Duty Ivy"). In his book Ametora, David Marx described it as two sides of the same coin. Students at certain elite colleges still wore blazers, but ones in more rural locales such as Dartmouth were more likely to be found in down jackets and denim.
Rugged Ivy came back in a big way about ten years ago, along with what would later be the Americana heritage trend. And although that look has somewhat petered off, Rugged Ivy remains immensely popular for fall. After all, what better to brace yourself from the cold winds than a nylon windbreaker and Shetland sweater?
For that kind of style, you could go with Danner hiking boots or LL Bean boots, but my favorite for the early part of season are retro-running sneakers. Meaning, the sort of track styles you might find in the '70s and '80s (a look so beloved by the Japanese, the editors of Popeye dedicated a spread to it in their inaugural issue). They lack the heft of true-blue rugged boots, but they're also better suited to sunnier weather.
So, if you're looking for a pair, here are a few that I've rounded up – from classic companies to newer brands specializing in older looks.
New Balance often gets a bad rap for being a '90s dad shoe, and while there are admittedly some questionable models (see this important court case with Judge John Hodgman), there are also some solidly great designs. Even Mos Def wore a pair in one of his early Black Star press photos.
The 574 is New Balance's best seller (and their signature shoe). It comes with a snubby toe box, narrow heel, and lots of shock protection provided by that cushy ENCAP midsole. The design is slightly chunky, but in my opinion, that's the way it should look. For something slimmed down, try the 420.
The 1400 was originally released in 1994, but for years, it was only available in Japan. That is until a few years ago, when J. Crew started doing collaborations with the company. They brought the 1400 stateside, with new colorways introduced every season. The toe box on this one is slightly different from the 574 (and one that I like better). The mesh panel is a little curvier, following the contours of the foot.
If you have money to burn, you can also check out the 1300JP, which was a similar Japan-exclusive design. Today, you can find it on eBay for about a cool $350. Otherwise, I think the 1400 designs at J. Crew are pretty great.
Adidas' SL72s were actually intended as an off-the-field shoe, not running, but the style takes after track-designs that were popular in the 1970s (when this was released). Originally designed for the 1972 Olympic Games, Adidas gave this a grooved midsole, dimpled tongue, and forked forefoot. The SL here stands for "super light," which makes this something like a Flyknit or Ultraboot of its day. Annoyingly not available in the US, but (again) you can find them on eBay.
I mean, this one combines so many popular sneaker designs at the moment – the grey suede T-toe that's reminiscent of German Army Trainers, green detailing of Stan Smith, mostly all-white design, and rubber gum soles. Except these came out about forty years ago. The original model was all leather and meant for cross-country training. Today, it's made with a mix of leather, suede, and nylon (which I think looks better anyway).
This Seattle-based brand made one of the most popular running shoes of the 1980s. Runner's World called Brooks' Chariot "the best running shoe ever." Today, it's more of a lifestyle sneaker than training shoe (like everything on this list). Still, it has that retro-80s design that would go so well with outdoorsy gear. Just be careful, as there are a lot of ugly colorways here. I recommend sticking to the simpler designs.
A model I like better than Brooks' Chariot. The Vantage was released in the late 1970s and debuted the company's patented wedge midsole (one of the first designs in "stabilizing running technology"). For some reason, it's been taken out of Brooks' Heritage line (their retro-release line). They still have their 1970s Vanguard, which is a T-toe cousin of the Vantage. To find the Vantage, you'll have to browse eBay and Amazon for third-party sellers.
Originally known as the Limber, Onitsuka Tiger later renamed this to Mexico 66 after the 1966 Mexico Olympic Games (where the shoes garnered worldwide attention). If you're anything like me, however, you probably know these from Bruce Lee's role in Game of Death, where he famously wore a striped yellow pair with a matching tracksuit while kicking five-pagoda levels of martial arts ass. Unless you're Bruce Lee, you'll probably want the simpler white ones.
As the legend goes, the prototype for the original Waffle Racer was made by pouring melted rubber into a waffle iron (hence the name, and how the shoe got that unique treading). The low toe box and nylon uppers give these a sportier, casual feel. I like how Jake Grantham wears them with a topcoat. Today, you can find them with Roshe soles, but I prefer the originals.
I'll never be able to disassociate these from Cholos, but it's hard to talk about retro runners without mentioning Nike's Cortez. Originally made in the 1970s for distance training and road running, these have a hard curve to the toe box and a simple swoosh design. The colorway above is known as the "Forrest Gump," since it appeared in the film, but I like the black/ white models. Just hard to imagine them under anything but Dickies and an open flannel.
Nike's Internationalist was the sneaker of choice by running legend Alberto Salazer. It debuted in 1982 at the NYC Marathon and for years was known as the distance running shoe. Fashion house Valentino even based their popular Rockrunners after them. As a design, the Internationalist has aged pretty gracefully, carrying a classic look without necessarily looking too retro. Usually made in a mix of leather and nylon mesh, although all-suede versions (like you see above) are also available.
Reebok's Classic is very much tied into the US body beautification movement of the 1980s, when there was an explosion in the number of health clubs and at-home workout videos (think: Jane Fonda). In the 90s, the shoes and its subtle variations also became streetwear icons. A clean pair of Classics were often found under tracksuits in Europe; the Workout Mids (colloquially known as Souljas) were popular in the American South and hip hop music scene. Soulja Slim celebrated them in his song "Souljas on my Feet." You can find the originals today, as well as unique collaborations, such as this black/ white design by Kendrick Lamar.
A recent re-release from Reebok's 1979 archive. The original design was bright blue with orange and red stripes, which looked fine, but I like the slightly off-beat interpretations. Garbstore recently did a collab with the company where they turned the uppers inside-out, exposing all the interior construction (they actually did this with other Adidas models as well, but I like the Aztec version best). Wear them with a pair of sateen fatigues and a parka.
One of my favorites on this list. This Swedish company specializes in retro designs, but updates the look with funkier soles. This Marathon Trail has a toothy treaded outsole with a unique side profile. Comes in all sorts of colorways, but mostly in this grey-on-grey look with different suede accents (I have a pair in even more grey). I like that these aren't just straight repros, but rather vintage-inspired shoes with a sense of humor. Find them at SSENSE, End, Oki Ni, and Garmentory.
Victory Sportswear is a new name in the sneaker field, but they're using an old American sneaker manufacturer that has been producing resole-able running shoes for decades. These feel sturdier than many of the options on this list, but note that the back of the sneakers have a stitched down construction, where the uppers are turned out and then stitched down to the sole. That means the sole sticks out a little from the uppers. May or may not be something you like, but it's an easy detail to miss in photos. I like the low-key 1980s look and solid build quality. You can find them at Kafka, JJJound, Tradesmen, Trunk Clothiers, and Nepenthes. Meyvn also has them on sale right now.
The last British-owned sneaker company still producing in the UK. They have a few different models, but I like the Ensign (particularly in the blue-white colorway, which was originally designed for the Bolton Harriers to compete in the 1981 New York Marathon). I find the D-ring lacing system to be extra comfortable – easy to lace up, but also very forgiving when you bend your foot. Expensive at full retail, but not hard to find on sale if you're patient (the company is having a 50% off sale now with the checkout code SUMMER50). If you don't see any colorways you like, try their custom shoe program.
One of the few (maybe only?) smaller labels doing retro-styled runners at a more affordable price point. If you find yourself balking at some of the prices above, try Greats' Rosen. The suede and nylon upper is built on a circular-lugged Vibram outsole, but comes just under $50. I like the company's Pronto design a little better, but the Rosen seems nice and minimalistic.
(lead photos from MisterCrew and Heavy Tweed Jacket)
---