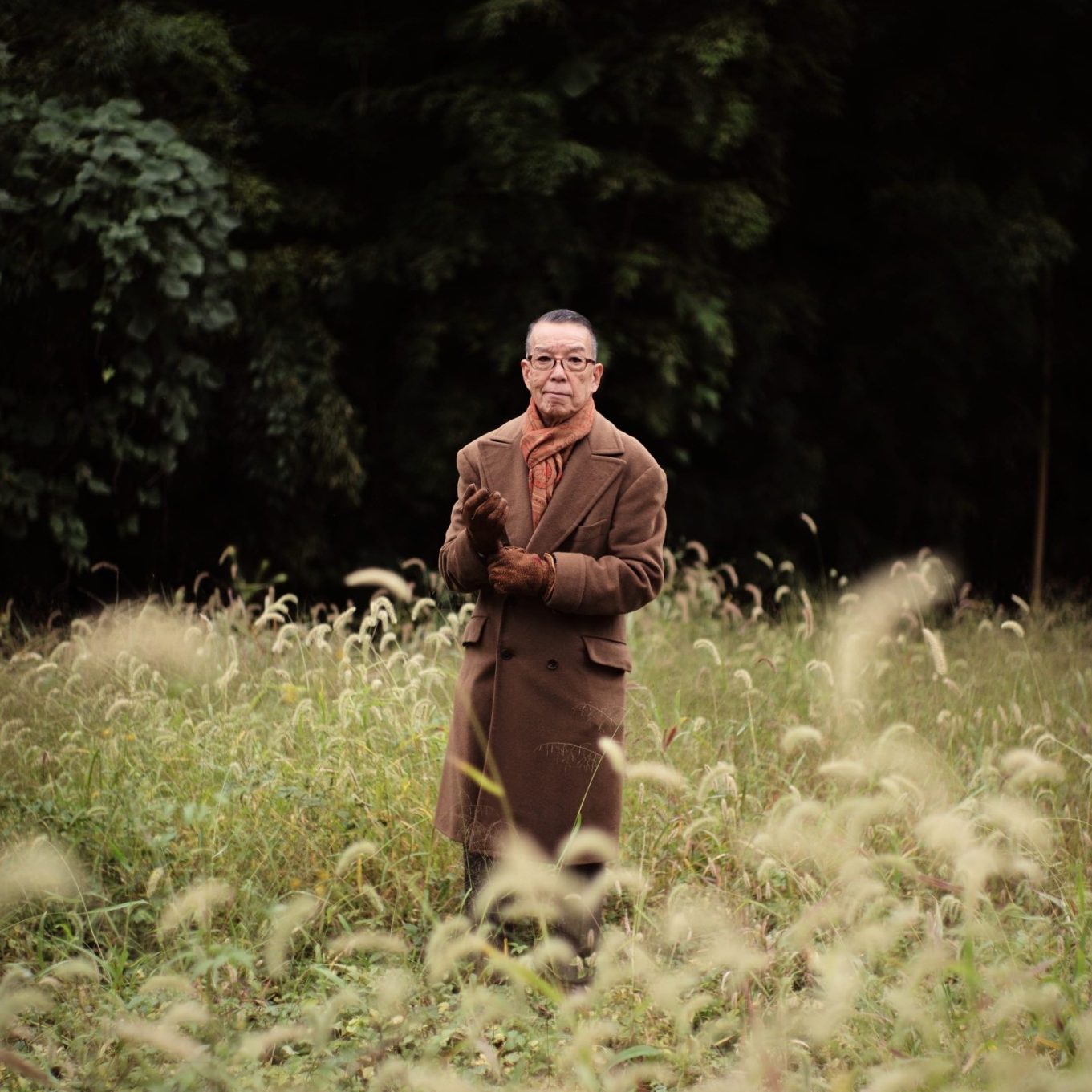 Over the summer, while surfing the web for Japanese menswear sites that I can't read, I stumbled upon the news that a book was going to be published about Yukio Akamine. As many readers know, Akamine is a menswear industry veteran with a vintage clothing and consultancy business. I think he's the most stylish man alive.
I've admired Akamine's style for ages, so I was more than excited when I learned the news of this book. It's been put together by Eisuke Yamashita, who has worked in the Japanese menswear publishing industry for over twenty years. Yamashita recently started his own media company called Mon Oncle, named after a 1958 French comedy by Jacques Tati. Mon Ocle features profiles on Japanese style legends such as Juzo Itami, Kenji Kaga, and of course, Yukio Akamine. Although I can't read Japanese, his site is a joy to visit, largely because of Yamashita's spectacular photography. And it's this photography that makes the new book on Akamine well worth the price, even for people who can't read the text. The book, titled Akamine Yukio No Kurashikku (roughly translated to Yukio Akamine, Classic Life), is distinct from other menswear titles in that it's not recycling the same images of Cary Grant and Steve McQueen. The material is all original and will inspire any menswear aficionado for decades to come. 
I recently talked with Yamashita about his new book, what he learned while producing it, and his future projects.
How did you come to the decision to write a book about Yukio Akamine? Why did you pick him as your subject?
I'm concerned about the younger generation's lack of interest in classic style. At the same time, figures such as Mr. Akamine have a sizable following among young people on Instagram and YouTube. I've admired Mr. Akamine's style for over two decades. So I reasoned that if I could write a book that was more than just a catalog of his outfits but also captured the essence of his style, more people would be introduced to his philosophy.
What do you think makes him so appealing to the younger generation?
In general, only a small number of people are interested in classic style. Young people are much more likely to wear brands such as Uniqlo. Many young people, however, have grown tired of modern culture.  They shop vintage, wait in line at old coffee shops, and listen to 1980s "city pop" music. These are the types of people who are interested in Mr. Akamine. Mr. Akamine is about their grandfather's age, but his way of life is tasteful and thus feels new.
One of the things that struck me about the book is how elegant Mr. Akamine always appears. His style is classic, but it is never boring or overly cautious. For example, in your book, he's wearing a brown sport coat with mid-grey trousers, but the shirt is brown gingham rather than the traditional light blue oxford. There's also a picture of him in a bright yellow gun club sport coat, stone-colored trousers, and an ochre tie. What style lessons did you learn while working on this book?
Although he wears foreign clothes instead of kimonos, he is strongly influenced by the Japanese seasons and landscapes. Every morning, he gets up around 4:00 or 5:00 a.m. and walks around the neighborhood for an hour or two, taking inspiration from the scenery, plants, and sky colors he sees. This influences his sense of style. I tried to be more sensitive to the expressions of nature around us while spending time with him.
You shoot some of Mr. Akamine's clothes against a black background at the beginning of the book and show close-ups of the details. Many of these garments have frayed edges and show significant wear. Is there a backstory to some of these garments? 
Mr. Akamine strongly dislikes fads and enjoys wearing things for as long as possible. As a result, his clothes naturally age over time. Much of his wardrobe is made up of over fifty-year-old pieces, all of which are fantastic. I recall him telling me a story about his duffle coat. Glenover, Mr. Akamine's now-defunct brand, produced it. At the time, he collaborated with a factory to create something that surpassed the old British-made duffle coat, employing a fabric so thick that the sewers had difficulty pushing needles through it. About twenty years after he made this coat, Mr. Akamine heard that the factory's president had passed away. He rushed to the funeral home and found one of the duffle coats he had made on an altar. This kind of history, I believe, gives his clothes special meaning, and this is partly why the clothes stay with him for such a long time.
How long did you spend with Mr. Akamine? How frequently did you pay him visits for this project? What are some of your favorite memories from these visits?
We must have met at least fifty times. I often accompanied Mr. Akamine to his trunk shows, and on some of these occasions, he would also give a talk to an audience. I recall one of these trunk shows being held in an old house in Kyoto, with tickets costing 10,000 yen. The ticket price included a meal and a discussion. One of the attendees at this event was a 15-year-old boy who walked two hours from the suburbs to hear Mr. Akamine talk. He told us that, while he couldn't order a suit right now, he hoped to do so someday. Mr. Akamine's kindness to these young people moved me deeply. This book was written with young people like this boy in mind.
Unfortunately, I am unable to read Japanese, but while browsing your Mon Oncle website, I was able to translate some text using Google. Mr. Akamine mentioned fountain pens, gift-giving, and some life lessons. Is there anything in this book that isn't about clothes?
This book is more concerned with Mr. Akamine's philosophy than with fashion. In the book, he discusses the importance of eating a healthy diet, not putting too much emphasis on efficiency, respecting nature and the artisans who make things, and becoming more interested in films, art, and philosophy. Of course, he also offers some fashion advice, such as why people should avoid fashion trends.
The book's title is Akamine Yukio No Kurashikku. Kurashikku is a Japanese word that roughly translates to "classic." Kurashi is Japanese for "life." So the title roughly translates to Classic Life. The central message of the book is that in order to understand the beauty of clothing, you must first recognize the beauty of life.
Why do you believe classic style has become less popular? 
I don't think it's easy to dress like this nowadays. People don't have time to develop their tastes because fashion changes so quickly. People used to learn how to dress by being in close contact with their elders at home or at work. Today's generations are increasingly divided and interact less and less.
Were there any things you wished you could have included in the book but couldn't?
The fact that we were unable to travel abroad due to COVID-19 provided us with a unique perspective. However, I'd like to do an international edition at some point. I would also like to dig deeper into the relationship between Japanese food culture and fashion. A century ago, Japanese people saw the seasons not just as spring, summer, fall, and winter, but as divided into 24 distinct seasons! Mr. Akamine dresses for each of the 24 seasons. Unfortunately, I couldn't cover this idea in this book because it was too complicated to compose.
Do you have any other books? And do you have any future book projects in the works?
This is the first book written about Mr. Akamine. Before we embark on any new projects, I'd like to make this book more widely available. Mr. Akamine and I are planning a trip to Italy in the second half of January of next year. If we can shoot some scenes in other countries, I'd like to publish an international edition.
Readers interested in ordering the book can email info@mononcle.jp. The 280-page, full-color, hardcover book costs 10,000 yen (about $73, given the current exchange rate). If you're located outside of Japan, you can expect to pay a little more for international shipping. Many thanks to Yamashita for his time and permission to use the photos above (the images are from the book and Akamine's Instagram). 
---