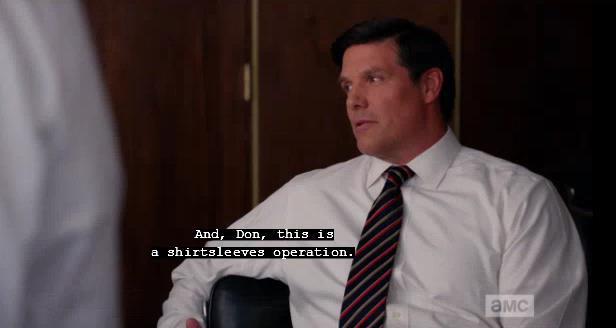 ***Potential Mad Men spoilers ahead***
Over its 8-year run, AMC's Mad Men has wielded its considerable sartorial influence mostly through visuals: the show has enjoyably charted menswear from the just-so business suits and off-duty banlon polos at the dawn of the 1960s to its current setting in 1970, when everything seems on the verge of overgrown: chiefly lapels, collars, and sideburns.
But this week's episode "Lost Horizon" delivered some dress code dialogue. On Don's first day at mega-agency McCann Erickson, he arrives in his customary suit and tie. His new bosses, however, don't wear jackets around the office. "Don, this is a shirtsleeves operation," says Ferg Donnelly, "We want you relaxed." He's talking generally but the McCann dress code is clear: no jacket required.
As if Mad Men isn't giving its audience enough reasons to dislike McCann, this is my personal least favorite business dress code. A necktie and no jacket makes you look overinflated, like a garbage bag tied up with a piece of silk. It's both sloppy and staid. At least go full presidential candidate and loosen your tie, unbutton the collar, and roll up your sleeves like you're preparing to do some white collar manual labor. Or ditch the tie and keep the jacket. This predecessor to business casual is one of the least flattering choices a man can make. If I were Don I would have quit right there.
–Pete
---