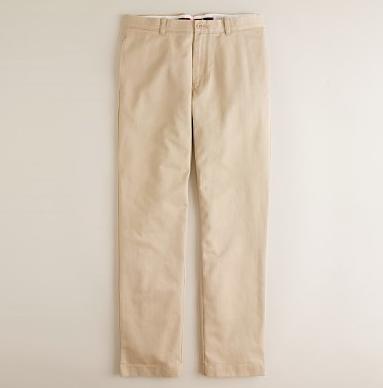 James writes: Recently I've been paying more attention to my clothes and their quality – that meant scrapping a lot of boxy khakis and ill-fitting jeans for a pair of APCs, but I'm looking for more than one pair of "everyday pants." I feel like khakis make me look like my Dad (I feel like every generation of dudes wants to look as much like their grandfather as they can but as little like their father as they can) and after wearing pants cut for humans everything else feels baggy and awkward. Where can a guy go to get a pair of pants after he's used to the durability of raw denim?
If you're talking about a casual wardrobe, the next logical step after a good pair of jeans is a good pair of chinos.  Not all chinos are the triple-pleated monstrosities that you associate with your dad and Frasier Crane.
There are plenty of options these days for chinos with a trim fit.  Above are J. Crew's "Urban Slim Fit" pants, which come in several colors – we prefer the slightly sandier British Khaki to the standard khaki.  A little more flavor.  They're about $60 at full price.
My own favorite chinos are ones that I've recommended here several times before – the Uniqlo Vintage Chino.  A great fit, some great details, and they're usually about $35.  If you live in New York, you can go into the store, but if you don't, they ship, just call them (917-237-8811) and ask for phone orders.  I like that the Uniqlos retain a bit of a military feel – it makes them more useful as a casual pant, rather than as a second-rate substitute for dress pants.
Dockers, feeling the pressure to update their image, have released the K-1.  It's inspired by WW2 military chinos, but with a dramatically slimmer cut.  I haven't touched them, but I've heard good things from the clothes nerds.  They're inexpensive as well, at $68.
Everyone seems to agree that Bill's Khakis are the bee's knees when it comes to quality in a chino.  Their M3 size isn't quite as trim (from what we've heard) as the J. Crews, for example, but it's pretty solid.  The price is a bit higher at $135, but the khaki aficionados say Bill's are worth the scratch, especially if toughness is what you're after.
Go flat-front, slim-fitting, and possibly with a little bit of military, period detail – like a wider belt loop, a richer color, a heavier twill.  Don't buy them pre-destroyed.  Start them a bit more formal, and move them towards casual as they wear.  Your goal here should be to rock these as effortlessly as JFK on his boat.  With some good accessories and a nice fit, you'll look great.  Then, you'll be ready for some gray flannels.
---