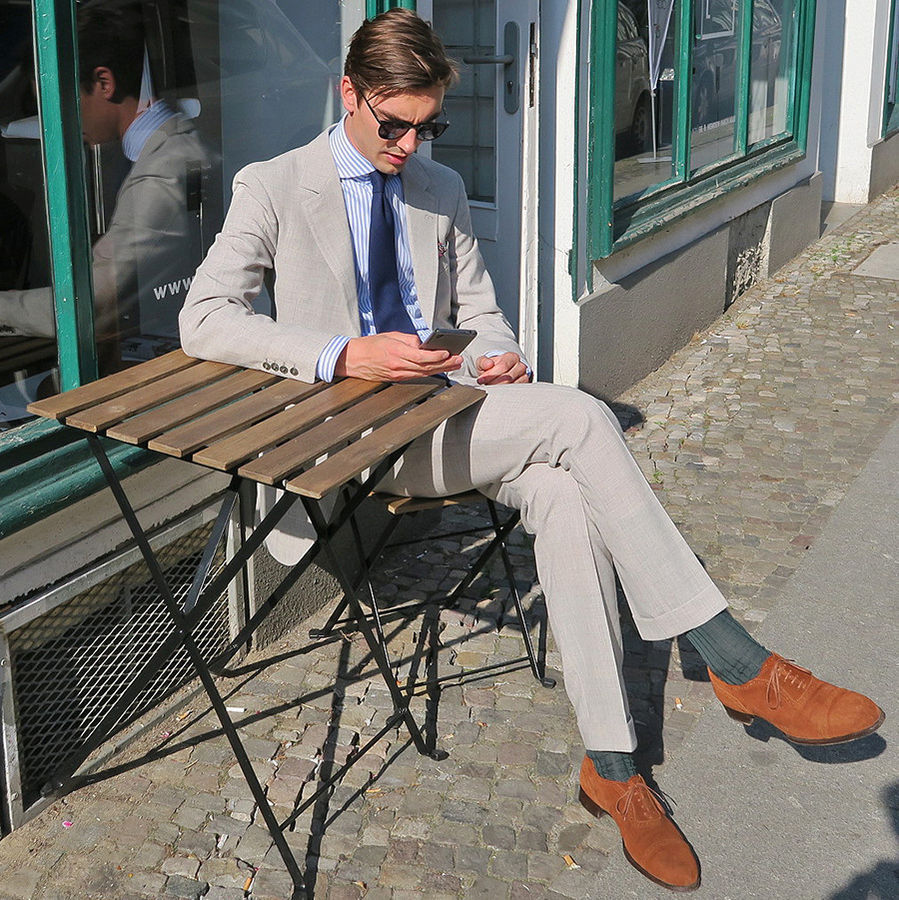 Tan shoes can be a great option in the spring and summer months, but they're not always the easiest to wear. The problem is: being lighter in color, they can stick out too much from underneath your trousers. And since most of us are accustomed to dark and subdued looking footwear, wearing something bright and light can be difficult. 
There are some good ways to make them work, however. Here are some suggestions:
Wear lighter-colored suits. The easiest solution is to wear lighter-colored suits, so that the shoes themselves are still some of the darker elements in your ensemble. Niels from Berlin in the first photo has paired his polo suede shoes with a pearl grey suit, striped blue shirt, and lightly patterned navy tie. The shirt and tie help add visual interest to an otherwise plain ensemble, while the lighter-colored suit and shoes allow things to look seasonal. Note, you can do the same thing with sport coats. Try tan trousers and a mid-blue jacket. 
Go for low contrast. Much more of an expert move, but also potentially much more rewarding. Greg in NYC in the next two photos has gone for lower-contrast outfits. Not only are his pants and jackets lighter colored, his shirts and tie are also less dark (in one case, he's not wearing a tie at all). 
Lean cool. When picking out a pair of tan shoes, consider the "temperature" of the color. Tans with a slightly reddish cast can be harder to wear, while those with more greens and yellows can be a little more versatile. In the last two photos, Greg and Voxsartoria show how you can wear cooler tans (here made from Edward Green's burnt pine leather) with darker colored trousers and jackets. A much more practical option if you're working with a smaller wardrobe, as they can still be worn with those light grey suits and mid-blue jackets for a seasonal look. 
---