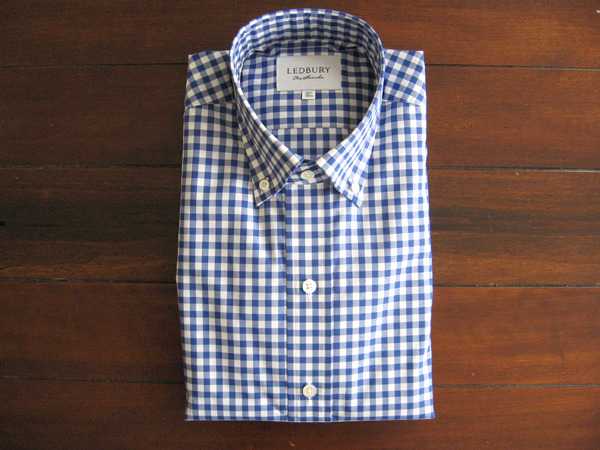 I recently received a free gingham shirt from Ledbury, a relatively new shirt company that was founded about a year and a half ago. The two owners, Paul Trible and Paul Watson, apprenticed under a master tailor from Jermyn Street, one of the most famous shirtmaking quarters in the world. While Ledbury's designs feel very American, the founders' English tailoring background is pretty evident in their shirts' quality.
The gingham shirt they sent me is made of a 2-ply Italian cotton poplin. Poplin is a "plain-weave" fabric that typically holds wrinkles a bit more. Ledbury's poplin, however, is fairly high quality and surprisingly wrinkle resistant (in a natural way). In addition to the quality fabric, the shirt features mother-of-pearl buttons and a high stitch count, all of which are hallmarks of a good shirtmaking.
The more interesting bits of the piece, however, are in the design details. First, the collar is bigger than what you'd find on most shirts. The collar points are about 3 inches and the back of the collar is about 2 inches – exactly how big I like my collars to be, as I think it gives the most handsome frame to a face. They've also lowered the second button a bit so that you can get the perfect V at the neckline when you're not wearing a tie.
One criticism I have, however, is that the pattern on the placket doesn't line up well with the shirt, but a quick look on their website shows that most of their shirts don't have this problem. As well, there's the issue of pricepoints – these seem fairly priced for what they are, but bespoke shirts from a quality tailor are often only $20-30 more. If you don't have access to custom shirts, however, Ledbury's prices aren't bad for what they're selling (assuming you get one without the pattern matching problem on the placket).
All in all, I think the company is definitely worth considering. Many of their shirts feel very appropriate for summer, especially if you enjoy a kind of casual American style. Check their sizing chart to see if one would fit you. If you order a shirt and it doesn't work out, don't worry – you have a full year to make the return and Ledbury will even pick up the tab for the shipping back to them. I wish other companies would stand behind their products as much as Ledbury does.
---