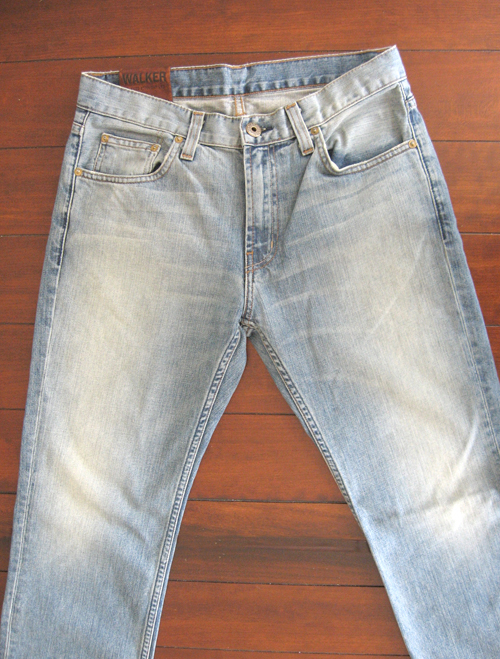 When J Brand contacted me about doing a review, I admit I was pretty skeptical. A quick look at their website made me think their jeans would fit too slim and be too heavily distressed for my taste. Like most style bloggers, I'm generally only interested in the raw, inky blue denim that comes out of Japan, and none of that was available through J Brand. 
However, it had just been a week off of Pitti Uomo, a menswear tradeshow in Florence, Italy, and I had just gotten done scanning through hundreds of pictures of incredibly well-dressed Italian men. A few had on what can only be rightfully called "dad jeans" – heavily washed denim that stands as the anti-thesis to the dark, inky blue raw jeans we all love. I figured to heck with it – it's not like I'm under any commitment to write about the company. There's no sense in being closed minded, so I had them send me a pair of the Walker jeans in their "Champ" wash. They are, essentially, J Brand's "dad jeans."  
Dad jeans, however pejorative the name may be, are actually really nice for spring-summer. They tend to be softer and lighter than raw denim, which makes them perfect for hot days, and they're a nice switch up from the selvedge standards that everyone has. Wear these as you would with any of your other jeans – either dressed up with a knit tie, button up shirt, and a sports coat; or down with perhaps just a lightweight sweater. 
The ones J Brand sent me are much nicer than I expected them to be. They have a slim straight-leg fit and mid-rise that comes up just high enough to hit my hips. As a man in his early-30s, I really appreciate the more "grown up" cut. The jeans are made from a soft 12-ounce denim, which makes them better to wear on hot days than my stiff and heavy selvedge denim. The back pockets don't have any obnoxious branding and the pre-fading isn't as prominent as the website would lead you to believe, both of which I'm thankful for. My only quibble is the leather patch logo on the back, but that's mostly covered up when I wear my belt. 
These are priced at $187 (I see you Dre), which I admit I think is a bit steep. Valet did a round up of other heavily washed jeans and there are options that come in below $100. However, none of them have a fit that I think looks very good – Levis always has a rise that's too low for my taste (which I think makes your torso look unnaturally big), and the Ralph Laurens look like they're too full in the leg. It's also worth mentioning that I've seen J Brands often go on sale at either Barneys or Gilt. If you're able to find these on sale, I would recommend considering them. There's just something nice and casual about dad jeans that feels perfect for summer and J Brand's "Walker" version has a very good fit. 
(photos by me, Tommy Ton, and Let Itself Go)
---