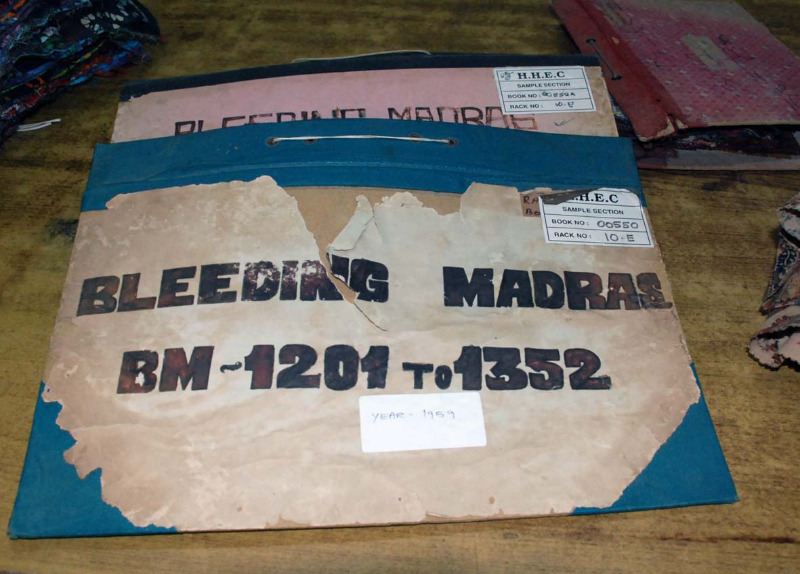 Emma McGinn has some beautiful photographs from her visit to the Handicraft and Handloom Export Corporation's fabric library in India. In it is an archive of real vintage madras, the collection of which spans an impressive sixty years. Emma notes that the library is a bit dusty and dank, but I can't imagine a good madras archive being any other way.
As many readers know, madras is a colorful fabric that's been popular in the US since at least the 1960s. It actually comes by way of Chennai, however, which is where this fabric archive is located. During British colonial times, the city was called Madras, which is where the fabric gets its name. As the story goes, it was invented here in the 1800s when Indians reinterpreted Scottish tartans with their own local color palettes. They put these designs on the loosely woven, lightweight cotton fabrics they wore – which were designed for the hot and humid weather in India – and the result is what we now call madras.
The original stuff wasn't colorfast, which meant the colors faded easily and bled into each other with each subsequent wash. For enthusiasts, this is what made madras charming – the fabric evolved and changed over time. Today, however, these qualities are considered to be defects, so almost all madras fabrics are colorfast (no bleeding, no fading). I actually still like modern madras shirts for spring and summer wear, especially on hot, sunny days, but they're not the same as the stuff you see here. This is the truly good stuff. 
---