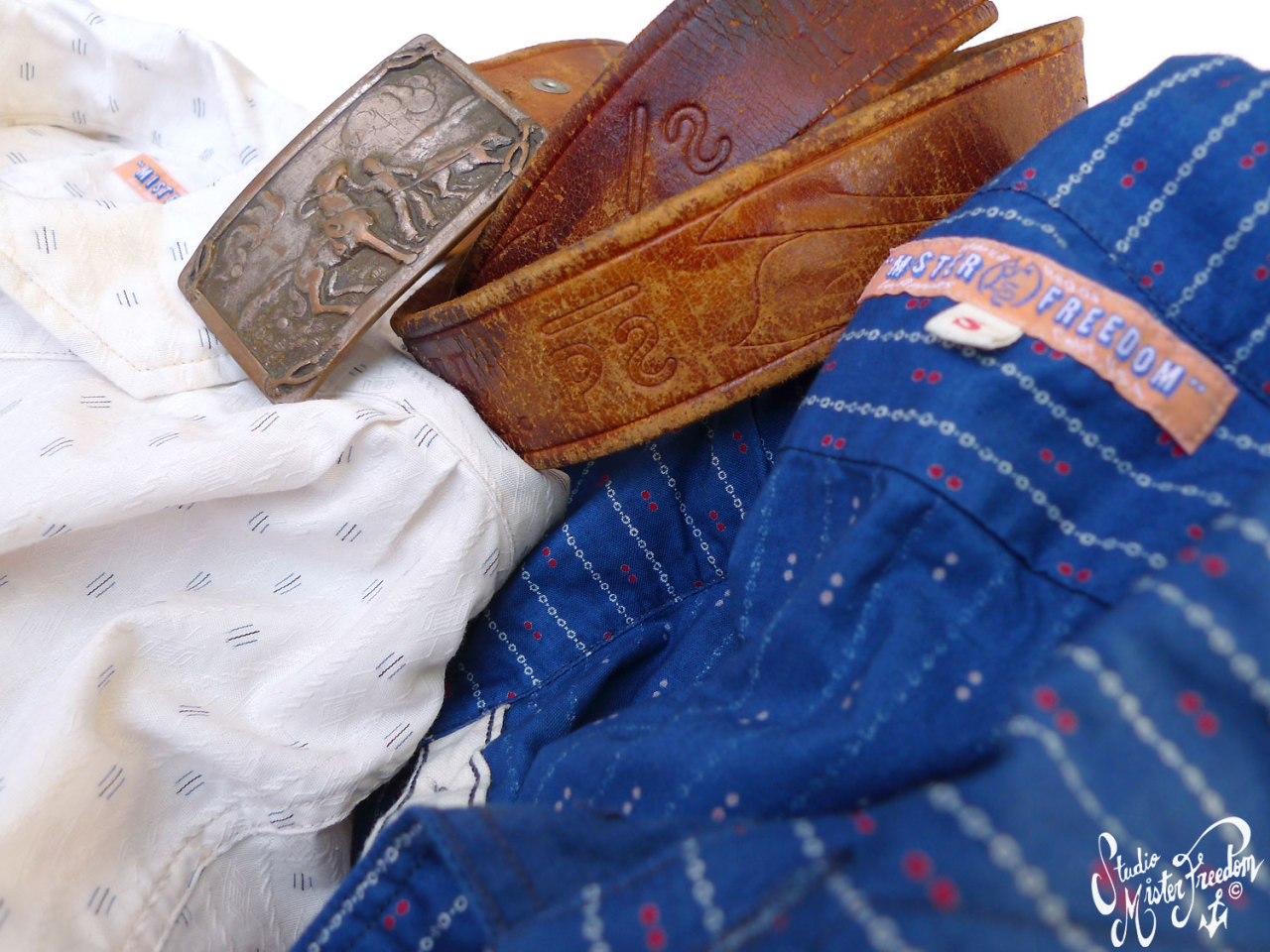 I'm not as experienced as Jesse it when it comes to thrifting, but I do enjoy going to thrift stores. When I go, I often like to browse around for vintage leather belts – the thick kind that you wear with jeans. One of the nice things about buying second-hand is that you can get things with a bit more character. With good leather, you'll often get something that has aged beautifully. 
Take the above belt, for example. It's from a webpage Mister Freedom made for their "Ranchero shirts," which are lovely, but the star of the photograph – at least for me – is the belt sitting in the middle. The variation in the coloring, the scuffing, and the scored design give the belt a certain appeal that modern workwear brands only imitate.
You can find such belts if you hunt around enough. Just visit good thrift stores or flea markets (in the Bay Area, I'd highly recommend Antiques by the Bay, which happens on the first Sunday of every month. Not only do they have a few vendors that sell vintage belts, but there are a ton of other great booths for vintage wares as well). There's also eBay, of course, but that gets slightly dicier. Vintage leather goods can be of varying quality – either because of the quality of the leather itself, or because of how the item was taken care of throughout the years. Without being able to handle the belt, and without a brand name to go off of, it can be difficult to know what you're looking at. Still, some of these are quite affordable, so if you get stuck with something less than ideal, it's at least not a big loss.
The alternative is to buy something new, but from a brand that takes it inspiration from old, vintage designs. RRL and Levi's Vintage Clothing often have tooled or painted belts that are made to look like they're from the mid-century. You can find them at workwear-focused stores such as Hickoree's and Unionmade. They won't have the kind of patina that an authentic vintage belt will carry, but they're often still quite handsome. With enough wear, you might get it to look as nice as the one Christophe Loiron (owner of Mister Freedom) photographed above (though, probably not, because that belt looks really awesome). 
(Photo via Christophe Loiron)
---