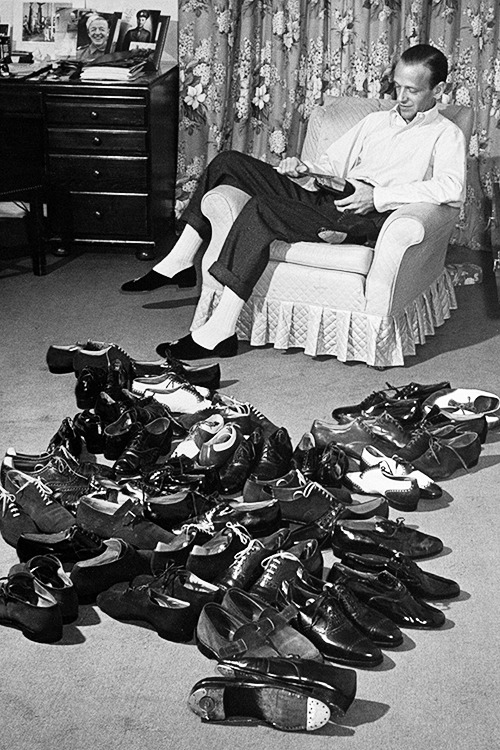 I'm sure we'd all love the Duke of Windsor's closet or Adolphe Menjoy's shoe wardrobe, but could owning too many clothes kill the joy of getting something new? Or worse, lead us to not appreciate the things we already have? Professors Dunn and Norton explore the idea of "underindulgence" in this thoughtful piece at The New York Times:
Indulgence is often closely trailed by its chubby sidekick, overindulgence. While the concept of overindulgence is probably all too familiar to anyone who's ever attended a Thanksgiving dinner, the word "underindulgence" doesn't exist. (Type it into Dictionary.com, and you'll be asked, "Did you mean counter intelligence?") But research shows that underindulgence — indulging a little less than you usually do — holds one key to getting more happiness for your money.
In a recent study conducted by our student Jordi Quoidbach, chocolate lovers ate a piece of this confection — and then pledged to abstain from chocolate for one week. Another group pledged to eat as much chocolate as they comfortably could and were even given a mammoth two-pound bag of chocolate to help them meet this "goal."
If you love chocolate, you might think that the students who absconded with the chocolaty loot had it made. But they paid a price. When they returned the next week for another chocolate tasting, they enjoyed that chocolate much less than they had the week before. The only people who enjoyed the chocolate as much the second week as they had the first? Those who had given it up in between. Underindulging — temporarily giving up chocolate, even when we have the cash to buy all we want — can renew our enjoyment of the things we love.
You can read the rest at The New York Times. Dunn and Norton also have a book titled Happy Money: The Science of Spending. 
---