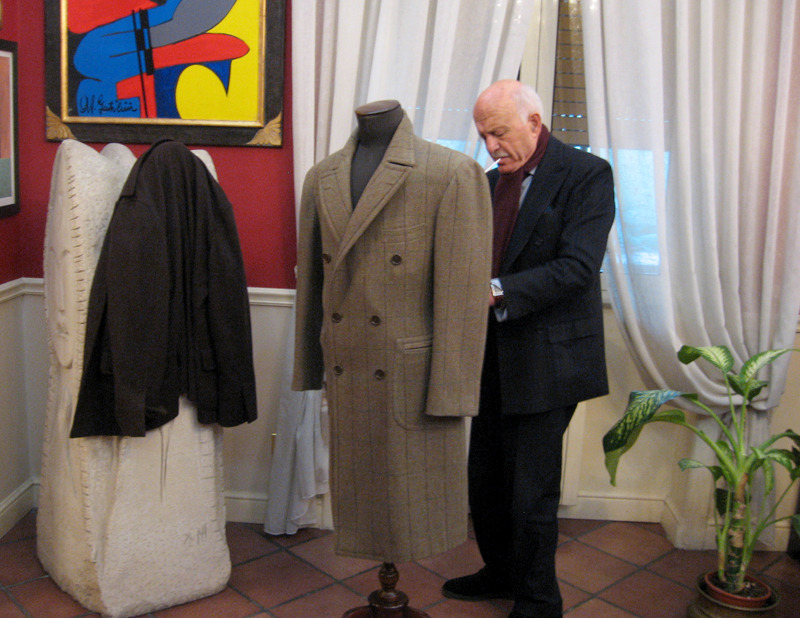 This winter's cold weather has reminded me that I'd really like to acquire a classic Ulster overcoat sometime this year. An Ulster is a long, double-breasted overcoat, usually made with a 6×3 or 8×4 button configuration. Those numbers refer to how the buttons are arranged on any double-breasted garment (not just Ulsters). A 6×3 double-breasted will have six buttons altogether, neatly arranged into two columns with three buttons each, while a 8×4 will have eight buttons arranged into two columns with four buttons each.
The Ulster has its origins in Ireland, where men would wear the overcoat casually in the wintertime out in the countryside. For this reason, it's usually made out of a thick, heavy tweed, and will feature details such envelope patch pockets. It's meant to fit somewhat roomy in order to accommodate any heavy sweaters or thick tweed sport coats worn underneath. To give it some shape, a half belted back is set in for a minimal level of waist suppression.
Its defining characteristic, however, is the collar. To most men, it looks something like what you might see on a peacoat. Broadly cut, it's designed to button close about the neck and is commonly worn with the back popped up. Last year, when I had dinner with Neapolitan tailor Antonio Panico, he wore a deep navy Ulster overcoat over his burgundy scarf and chalkstriped navy flannel suit. The collar on his coat was flipped up, and it looked quite dashing.
I haven't seen any new Ulster overcoats offered by any of the major menswear brands, so I assume I'll have to scour the vintage market. On the upside, I suppose that means if I find one, it should be much more affordable than what a new coat would cost. Here's to hoping I get one before the start of next winter.
(Pictures from: me, For a Discerning Few, and an old Eaton catalog from 1920)
---