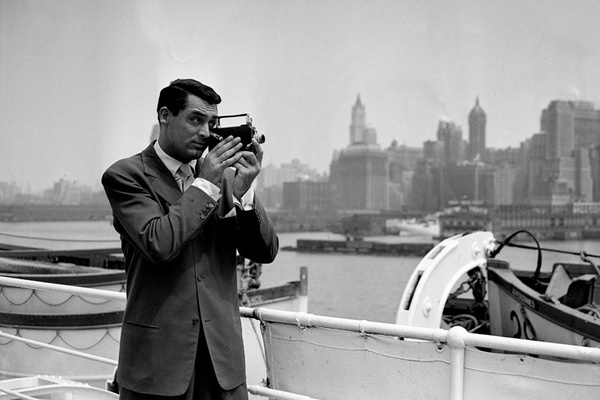 I love traveling home for the holidays – except the traveling part. Airports are crowded, planes are uncomfortable, and I always have this eerie feeling that I left something important at home (often turns out to be true).
Since next week many of us will be off on trips – whether returning home or traveling abroad – I thought I'd reach out to eight stylish men for travel advice. There's a lot of experience in this group. Simon Cundey, who serves as Managing Director at Henry Poole, travels multiple times a year to meet with bespoke clients for their fittings. Since he has to pack loads of commissions (basted suits and sport coats for clients), he's often under pressure to figure what's the minimum he personally has to bring to get by. Then there are the founders of some of my favorite shops (i.e. No Man Walks Alone, The Armoury, Self Edge, Brio, and Magasin). Each of them are often jet-setting around the world a few times a year to meet designers at showrooms and tradeshows. Finally, our friends Hooman Majd and Stephen Pulvirent, both journalists, are often traveling abroad for stories.
The questions I asked them were simple: what's your best travel tip and what do you always bring with you? Even if you're not flying somewhere next week, there's plenty of good travel advice here for your next trip.
HOOMAN MAJD, JOURNALIST AND AUTHOR
Travel Tip: Always wear a blazer when traveling, even if you insist on wearing sweatpants and sneakers on a plane. A blazer or sport coat (preferably unstructured) has a number of advantages. First, you look better and more professional at check-in, as well as at any security or customs check points. Second, you have one less jacket to pack in your suitcase/ carry-on. Finally, even if you're only going on holiday and not taking anything other than casual clothes, you never know when a jacket might be obligatory – a night out, a dinner party, or maybe just to make mom proud.
Favorite Travel Item: I love my Globetrotter suitcase, even though it doesn't have wheels (carrying a suitcase from the curb to the check-in desk isn't as arduous as some might think, but I may change that opinion in my old age). The design is traditional and hard sided, but remarkably still ultra-light. It's also elegant enough to elicit compliments, but not ostentatious. That said, I bought mine over thirty years ago, when they weren't fashionable or expensive. Today, they are more expensive than many leather cases. I'm not sure I'd spring for one now.
SIMON CUNDEY, MANAGING DIRECTOR AT HENRY POOLE
Travel Tip: If you're traveling for a short period, I think it's good to bring a navy blazer and grey suit. That way, you have a suit when you need one, but then a pair of trousers that you can wear with a navy jacket for more casual settings. Fresco makes for an excellent travel cloth since the high-twist yarns make it naturally wrinkle-resistant. I also like putting my garments in polythene slips – the kind you might get from the dry cleaners. If you do this before packing, it'll help minimize wrinkles. Finally, if you happen to forget your collar stays at home, here's a trick: you can cut out new ones from blank hotel key cards (the kind they give you to open your room). Just ask for an extra one at the front desk.
Favorite Travel Item: Most of my overseas trips are for meeting clients for bespoke fittings, so I always pack a SwissCard by Victorinox. It's a small, business-card-sized accessory that carries a pair of scissors, a knife, a pen, etc. Since you can't bring these kinds of things with you onto the plane, it goes into my check-in luggage. Once I arrive, however, I put it in the facing pocket of my suit jacket. That way, I always have something if I need to cut some basting threads or something. It's a handy multi-use tool.
GEORGE WANG, FOUNDER OF BRIO
Travel Tip: Pack the most versatile clothes you have. That means grey fresco trousers with a hopsack jacket for warmer days, or grey flannel trousers with a serge blazer for colder ones. If you have room for only one piece of outerwear, make it a Barbour Beaufort. It's amazing not only in terms of its versatility, but also how it handles a range of temperatures – from a slight chill to deep winter. Additionally, a pair of jeans is essential. I always pack two pair of dress shoes, one pair of dark brown loafers, and another pair of dark brown or black oxfords. For dress shirts, with limited space, I'd pack a couple of white shirts, and a couple of long-sleeved polos. A light weight cashmere scarf is surprisingly handy year-round, as many flights have air conditioning that's way too cold.
Favorite Travel Item: If I'm going to a destination where I expect to do a little shopping, I like to bring my Valextra soft leather duffle bag. The double-zip, flap system allows you to double its capacity, but you can also flatten the bag out when it's empty. I also recently discovered Lady White Co. t-shirts at a local denim and workwear store here in Beijing. I can't live without them anymore, both at home or abroad.
STEPHEN PULVIRENT, MANAGING EDITOR OF HODINKEE
Travel Tip: Be really nice to people. You'd be shocked at how far a little kindness can get you at an airport these days. In a world where at least one passenger on your flight is probably going to scream at one of the gate agents or flight attendants, simply smiling or asking someone how they're doing goes a long way. You'll find that security lines don't feel quite as aggressive, exit row and upgrade seats will come much easier, and some free booze might make its way onto your tray table. Worst case, you just end up having a nicer experience and get to your destination without a headache.
Favorite Travel Item: Small toiletry bag. Mine almost always has the same things: Aesop Resurrection hand wash and Aesop Reverence hand balm so I don't have to deal with sticky fingers or dried out hands; a stick of Burt's Bees lip balm (with the label pulled off); a stick of deodorant; a comb; a little pill carrier; and a few bags of my favorite Japanese green tea. This way, no matter where I go or what kind of crap I get into, I've always got the basic comforts covered.
MARK CHO, CO-FOUNDER OF THE ARMOURY
Travel Tip: Stay hydrated. It's not such a big deal on short flights, but on anything longer than eight hours, I try to drink at least two liters of water. I learned this from a Cathay Pacific pilot. It's very easy to become dehydrated and very difficult to re-hydrate. Best is to stay hydrated instead. Why? It affects the quality of your sleep on your flight and when you arrive at your destination. I sleep poorly when I'm feeling dry and thirsty. And ultimately, if I'm low on energy the next day, it affects my ability to get things done.

Favorite Travel Item: I always bring a neck pillow. Your head is big and heavy, so sleeping in a seated position for a long time can put a lot of strain on your neck. Small neck pillows in this case are useless. I was very disappointed, for example, in the one I bought from Muji – which looks great, but gives little support. The best one I've come across is Cabeau Evolution, which is lower and thinner at the back, but high on the sides. That way, my head is supported no matter which way it tilts. The pillow is easy to roll up and pack into a carry-on. Along with a surgical mask – which helps prevent the sinuses and mouth from drying out – you can get some surprisingly good sleep this way on those long-haul flights.
JOSH PESKOWITZ, CO-FOUNDER OF MAGASIN
Travel Tip: When I travel for a short period, I try to only use a carry-on bag. This is tough, particularly around the holidays, since everyone has the same idea and overhead bins can be quite full. That said, I try to minimize what I need by relying fewer colors. For me, it's always navy and indigo. That way, you can rely on just a few items and switch them around in various ways to suit different situations. All you need is one good jacket and a few underpinnings that can be changed out. This makes life a lot easier with one bag.
Favorite Travel Item: My must-have travel item is a huge scarf. It can serve as a blanket or neck pillow on the plane, as well as be used to dress up a very simple look once you arrive at your destination. The one I always go to is a simple piece I picked up from an Acne fashion show in 2011, but there are plenty of options out there. Solid color works best for travel, although I have a few patterned ones as well. Second most important travel item for me is Berroca multivitamin tablets. They help with jet lag, hangovers, and travel colds.
GREG LELLOUCHE, FOUNDER OF NO MAN WALKS ALONE
Travel Tip: You can pack a full week's worth of clothes into a tri-fold garment bag if you set it up right. I usually start by layering in the trousers across the hanger bar, then putting the shirts on one-by-one, making sure the sleeves are slipped into each other. Next, I can fit about four or five suit jackets or sport coats onto the hanger. The trick is to fold the collars and lapels up, as well as making sure the sleeves are again slipped into each other. The fullness you get from the layered shirts and jackets sleeves does an excellent job of keeping everything wrinkle-free.
Favorite Travel Item: I have this little, silver photo frame that I always bring with me when I travel. It holds six photos and folds onto itself. It stays in my travel bag until I arrive at my destination, at which point I unfold it and put it on my bedside table at the hotel. The frame holds some family photos, and it helps faraway places feel a little more like home.
KIYA BABZANI, CO-FOUNDER OF SELF EDGE
Travel Tip: I often say this to our customers, but you need to feel comfortable in your clothes, otherwise how you feel will come through. This is doubly true when traveling. When you're going through different time zones and visiting foreign cities, it's good to have a calm and focused state-of-mind – things just fall into place when you do. And while this isn't completely determined by your clothes, it helps to wear things that make you feel confident. Personally, when I travel, I try to dress according to the places and events I'll be visiting. Having the right clothes helps me mentally get to the right place.
Favorite Travel Item: My Visvim 20L backpack and everything inside it. I travel quite a bit, so a good backpack filled with the right things makes my life a lot easier. My bag is usually filled with a fully charged Chord Mojo with Ultrasone headphones; a MacBook Pro; gum/ mints; a fancy chocolate bar; a protein bar; Band Aids; a yoyo w/ extra string; roll-on cologne; a variety of pills for emergencies of all kinds; and a St. Christopher Good Art pendant.
---