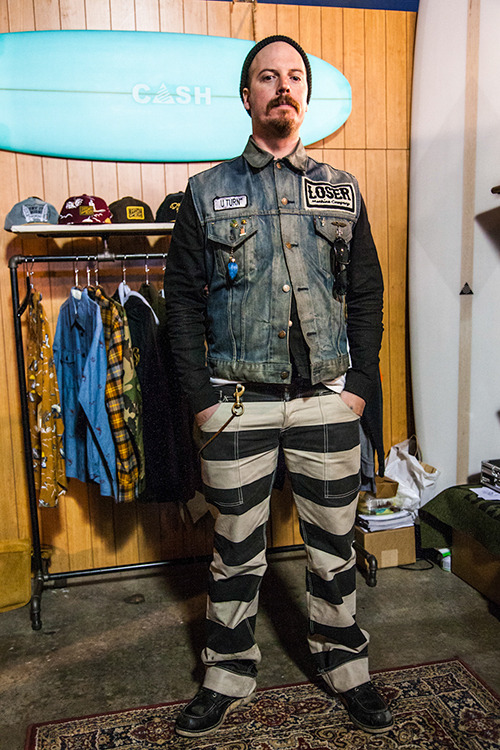 This weekend, our photographer Noe Montes and I visited the annual vintage menswear show Inspiration LA. Held in the Spruce Goose Dome, a huge, futuristic building on the water in Long Beach, it's an extravaganza of Americana. The whole operation is run by Rin Tanaka, the king of Japanese fans of American vintage, and the editor of a whole series of books called My Freedamn!.
There were motorcycle guys, surf dudes, hot rodders, workwear nuts, old-school mid-century lifestylers, outdoorsy types and everything in between. There was tons of vintage at premium prices (the t-shirt I wanted was $65), plus tons of vintage recreationists, both Japanese and American.The show is held on a Saturday, the day before Japanese vintage dealers descend on the Rose Bowl Flea Market in Pasadena, filling huge green canvas Army duffels with clothes to take back over the Pacific.
We couldn't afford to buy much (though I did buy a sweatshirt from the Japanese repro brand Real McCoy's), but we did have a grand time. We ran into a number of Put This On fans, and even a few subjects – our friend Mike Hodis from Rising Sun was there, along with our pal Raul Ojeda from Don Ville Shoes. We finally met Kiya, the owner of Self Edge, and a guy named Mustache Mike who owns a vintage shop slash barbershop in Minneapolis. Everyone with a great outfit got shot.
This week, we'll share selections with you every day here at Put This On.
(All photos by Noe Montes)
---