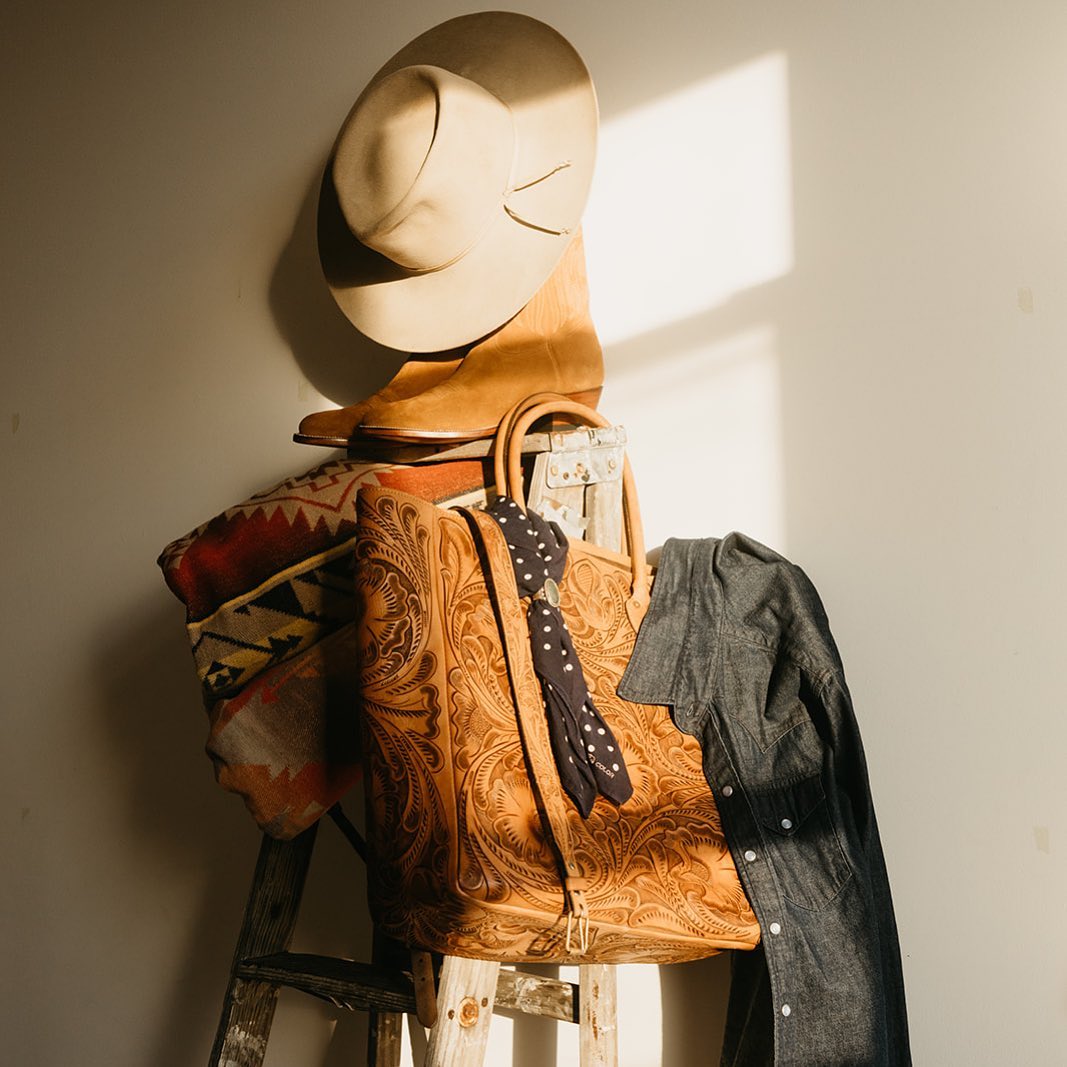 Well, it's official: cowboys are back.
No, not the football team (they still stink). You know, the lone hero riding off into the sunset after saving the day? Yeah, that cowboy.
However dubious its foundation may be, the archetypal American cowboy is one of the most influential and pervasive cultural touchstones across generations. Your parents grew up with John Wayne; you have Kurt Russell; and for your kids, it's Django. But while the cowboy himself has changed, one thing has stayed the same: his uniform.
You'd know him if you fell over him. A wide-brimmed hat, Western pearl snap shirt, suede chaps, and big ol' cowboy boots (spurs optional). In 2021, although we are less connected with the land than ever, the cowboy's image has never been more appealing to city slickers. It all begins up top. 
"To me, the Open Road sends me back to the idea of ​​freedom," says Stéphane, a lawyer based in France. "My personal freedom, which is the possibility for me to wear what I want, without paying attention to other people's opinion." Spoken like a true cowboy.
Stéphane, who runs the much-lauded Instagram account @sideadjuster, is just one of many devotees of the Stetson Open Road. A hat that has been seen on the heads of everyone from President Eisenhower to Leon Bridges, the Open Road is the "it" accessory-du-jour in the menswear world. "I like that this hat is a good balance between rusticity and refinement," the Frenchman elaborates. Indeed, that idea of finding a balance between the cowboy uniform's intrinsic ruggedness and refinement of our modern world lies at the heart of the contemporary Western revival.
Take, for example, London-based decorator Mark Large (@1lrg). "There's always a danger of too much at once, being too costume-y," says the Brit about over-doing the Western look. An RRL fanatic, Large's style is a wide-ranging mish-mash of different styles rooted in heritage. Western wear is only one tile in the mosaic. "It's more about how comfortable you feel wearing the clothes. Classic items stand the test of time." Large masterfully blends items such as bright orange corduroy trousers, Paraboot "Michael" lace-ups, and a double-pocket Western yoke shirt in a manner that incorporates these items of various pedigree into an eclectic yet cohesive look. For him, the goal is not to scream "cowboy," but instead to give the ranchero a subtle nod.
In the same vein, many menswear brands are incorporating Western items into their offerings. Wythe (@wythenewyork), a New York-based menswear brand run by Texas native, Peter Middleton, integrates the Western aesthetic in a way where it can comfortably sit with Ivy staples such as Shetland sweaters and oxford cloth button-down shirts. "I like to mix Westernwear with tailoring, or more classic pieces, and like the juxtaposition there," says Middleton." I already know it works because that's how I dress." 
Middleton's bet on mixing Western into the classic wardrobe paid off. Wythe's moleskin pearl snap Western shirts sold out instantly on their site, and the company is currently taking pre-orders for the next batch. But they don't stop the idea of blending at just the integration of items; they add a Western flair to things that otherwise would simply be considered classic, thus giving these steadfast pieces an entirely new feel. Like their tooled leather tote bag; essentially, it's just a well-crafted leather carryall. But the hand-tooling pattern gives it a completely new vibe, one that beckons to the lone rider in us.  
Of course, context is important. "When we wear Western clothing, we aren't speaking to the reality of the American West," says Jonathan of @berkeley_breathes, an Instagram account dedicated to the more unique and rarely-seen outfits within the Ivy League Look. "I think it's important to be aware of that gap in meaning and that it's interesting to explore that gray area in-between the two systems."
Within that gray area exists many things. What the cowboy actually was and what we pretend the cowboy was. But what also exists within the gap is the cowboy uniform's context in the 21st century. Particularly, how the cowboy's uniform fits into — or perhaps, purposefully stands out from — what we wear today. Whether you're doing Will Rogers cosplay, or simply adding in a pair of cowboy boots into the rotation of Chelseas and chukkas, many of the leading voices in menswear are realizing that the Western look can be a powerful addition to the modern man's wardrobe. 
Maybe it's escapism from a world rocked by a pandemic, or perhaps it is a longing for something more 'authentically American' (whatever that means). But no matter which way you look at it, the cowboy is back.
---