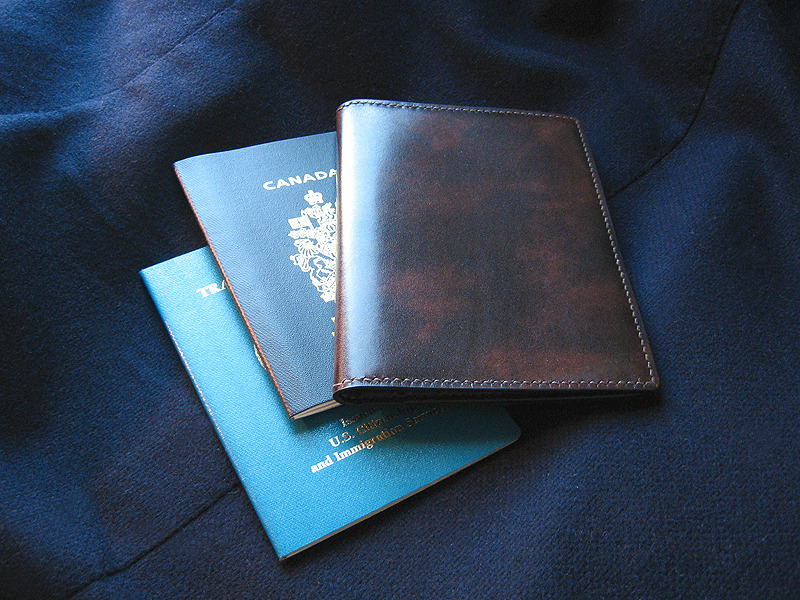 I've been traveling a bit for the holidays, and every time I get on a plane, I'm reminded of the usefulness of travel wallets. This is especially true for international flights, when you might have multiple plane and train tickets, foreign currencies, important notes to yourself, and various travel documents. Of course, without a wallet, you can stuff all these things into your jacket, but it's kind of a hassle to fumble through your pockets trying to search for things when you're in a rush. Plus, I'm always worried that I might have accidentally lost something halfway through my trip. The idea that I could be stuck somewhere without my passport or ticket, possibly in a country where I don't speak the language, is kind of frightening.
So, it's nice to have a travel wallet to keep everything in one place, and know that nothing has been lost. Mine is from Chester Mox. It's made from their "museum calf" leather, which they source from the same tannery that supplies John Lobb. There are two big pockets inside for things such as passports and folded up pieces of paper, and some slots for your ID and credit cards. I really like Chester Mox for their relatively affordable prices on small leather goods, but this one is on the slightly pricey side. However, since everything is made-on-order, you can request the same model in a different material, and they'll quote you a lower price.
If you're not deterred by the price on the museum calf wallet, you can also find really nice models from Valextra and Smythson, both of which can be found at Barney's. Those are cut a bit more like coat wallets, which is useful if you don't want to fold your travel tickets, but the length also restricts the wallet to the inside of your coat pocket (whereas the Chester Mox one can be slipped into the back pocket of your jeans if necessary). Brooks Brothers also has something with a long interior pocket, and Ettinger has various models made from their signature English bridle leather (a thicker, stiffer material that's as hardy as it is handsome).
For something more affordable, there's Tanner Goods and Duluth Pack. Saddleback Leather also has a really interesting design with an RFID shield. It's sold out at the moment, but given that it's a staple piece in their line up, it'll probably be restocked at some point again.
When shopping for one, I encourage you to avoid the ones that are designed to just hold a passport and nothing else. At any international checkpoint, you'll be asked to take your passport out of your fancy case, which makes having a case kind of pointless. A wallet that holds your passport, documents, tickets, credit cards, and ID, however? Very, very useful.
---