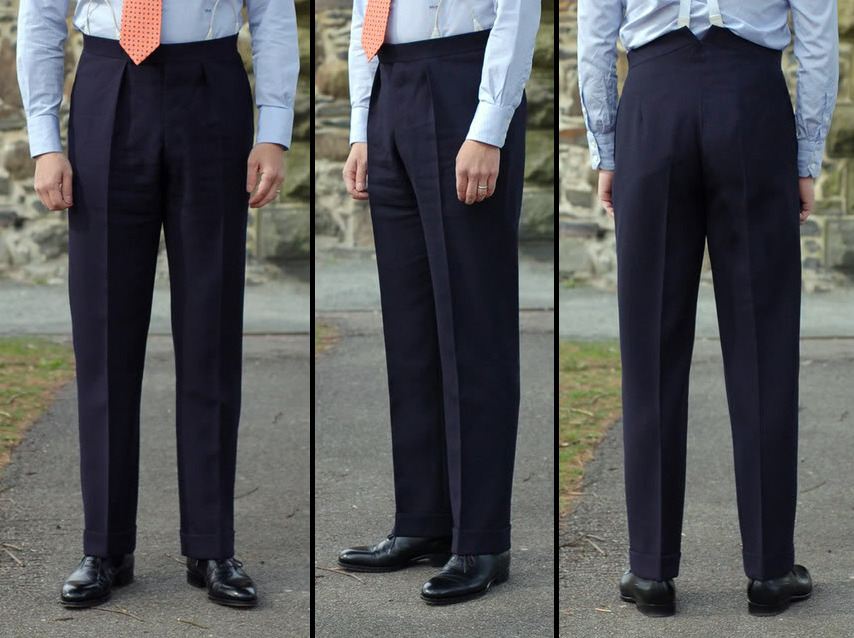 Pete had a good post last week about high-waisted, pleated trousers. I've been wearing them for a few years, and like Pete, find that you can avoid all the frumpy, '90s connotations by getting something that fits well and has a reasonably slim leg-line.
If you're just starting to consider pleats, however, think about the style first.
Pleats come in two types. There are forward pleats (sometimes call regular pleats), where the pleat opens toward the center fly. Then there are reverse pleats, where pleat opens toward the hip pockets. You can see an example of the first in the first image above; an example of the second in the second image.
Generally speaking, forward pleats are considered more English, while reverse pleats are more Italian. Americans have gone either way over the years, but in recent times, have favored reverse (when they wear pleats at all). And you may want to as well. Reverse pleats – particularly the shallow kind like you see in the second image – look a lot more like flat-front trousers. Which makes them great for recent converts, as they can be a sort of "shy" version of pleated pants. (Just don't let Charlie Davidson see you).
I also find reverse pleats to be a bit more versatile. Easier to wear with a tailored jacket, but also just a collared shirt and sweater. Forward pleats, on the other hand, always feel a bit more formal to me.
Like with double-breasted jackets, pleated trousers can be harder to get right off-the-rack, so pay attention to the details. If the pleats splay open when you're wearing them, or a lot of extra volume is being thrown towards your hips (as can happen with reverse pleats), move on and find something else.
(photos via Voxsatoria and Ambrosi Napoli)
---