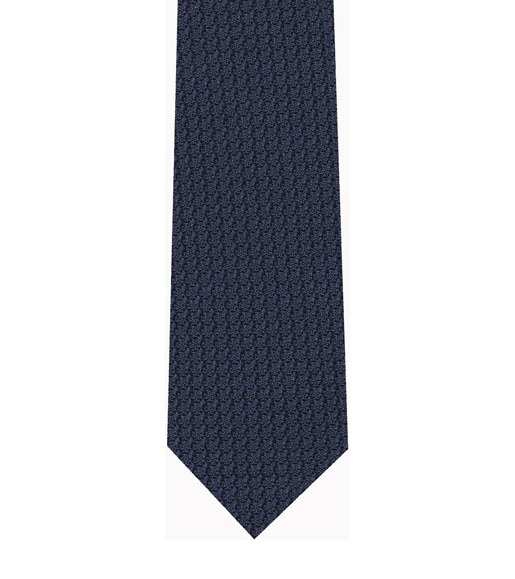 In my estimation, a well dressed man needs at least a dozen or two neckties. A dozen if he doesn't wear ties often; two dozen if he does. The next three entries to this series are about how to build that basic, minimal necktie wardrobe. I'll begin with the bare basics:
Solid grenadine
Jesse has given a lot of great advice here over the years. One of his best is his constant advocation for grenadines. 
There are two kinds of grenadines – garza grossa and garza fina. Garza grossa is a looser, bigger weave, and the silk slightly moves over time. Garza fina, on the other hand, looks a bit finer, and the weave is a bit tighter. Both will give you the texture you need in a simple tie, but grossa's will be more apparent from a distance. 
J Press grenadines are garza finas, and Kent Wang's are garza grossas. Drakes of London and Sam Hober sell both. 
Solid, ribbed faille or basketweave
The other plain basic is your slightly ribbed silk failles and basketweaves. These works like your grenadines – simple, easy to wear ties that add just a touch of texture to your wardrobe. Their textures aren't as striking as a grenadine's, but they're still noticeable from about an arm's length. Jesse and GW have commented on the value of a simple necktie collection, and ribbed silk failles and basketweaves serve this purpose well. 
Pin dot
Next we have pin dots, which have become some of my favorites. Like many of the other ties on this list, pin dot ties can vary in scale, from minidots to slightly larger dots. Slightly smaller, more subtle patterns are best in this case, as they tend to be a bit more elegant and versatile. 
Club tie 
Finally, we have the club tie. Sometime in 1880, faculty members at Oxford University started taking the ribbons from their straw hats and wearing it around their neck (why, I have no idea). Soon, the practice was copied at other prestigious institutions, and the style was eventually picked up by the middleclasses in order signal their social standing. These days, the stripes and colors don't really signal much, though there are exceptions – your favorite menswear website, for example, has a club tie, and it'll signal that you're part of a small, elite group of men who actually know how to dress themselves. 
Club ties can come in block or ribbon stripes, and like the garza grossas and garza finas, which you pick is completely up to you. 
Where to buy ties
As for where to buy these ties from, some of the best are by E. Marinella, Nicky of Milan, Isaia, Charvet, E&G Cappelli, and Drakes of London. I also really like Ralph Lauren Purple Label ties, but it might be because I'm a whore for Ralph Lauren's higher end stuff. Ties from these makers are handmade from the best fabrics. They drape, as well as knot, beautifully. However, they're also pretty expensive – ranging between $150 and $250 per tie. You can sometimes find them on sale at Saks or Barneys, but you have to wait and hunt. 
One of the best deals on the market is Sam Hober, a bespoke tie maker who handmakes all of his wares. What is the advantage of a bespoke tie? With bespoke, the maker pours his effort into one tie just for a customer, which allows him to supervise and ensure all the details of the tie construction are done well. Examine, for example, the qualitative difference between these two luxury ties – the blue one is a bespoke unlined seven-fold by Sam Hober and the brown is an off-the-rack by Borrelli. Notice the quality of the sewing, lack of crinkling, and softer rolling edges on Hober's tie. It's incredible to me that he's able to offer the quality and service he does at the prices he gives.
Other nice handmade ties can be had through Kent Wang, Howard Yount, and Panta. Like Hober, these will also run between $75 and $100, and they're very nice. You can read Jesse's glowing review of his Panta ties here. You can also check out J Press, Brooks Brothers, Mountain and Sackett, and, of lesser quality, but still decent, Lands End. Lastly, StyleForum member gshen, who has been a popular pocket square supplier, has started hand-making ties. I haven't had the chance to handle any, but from the photos and reviews I've seen so far, they look great. You can read more about them on his blog. 
---