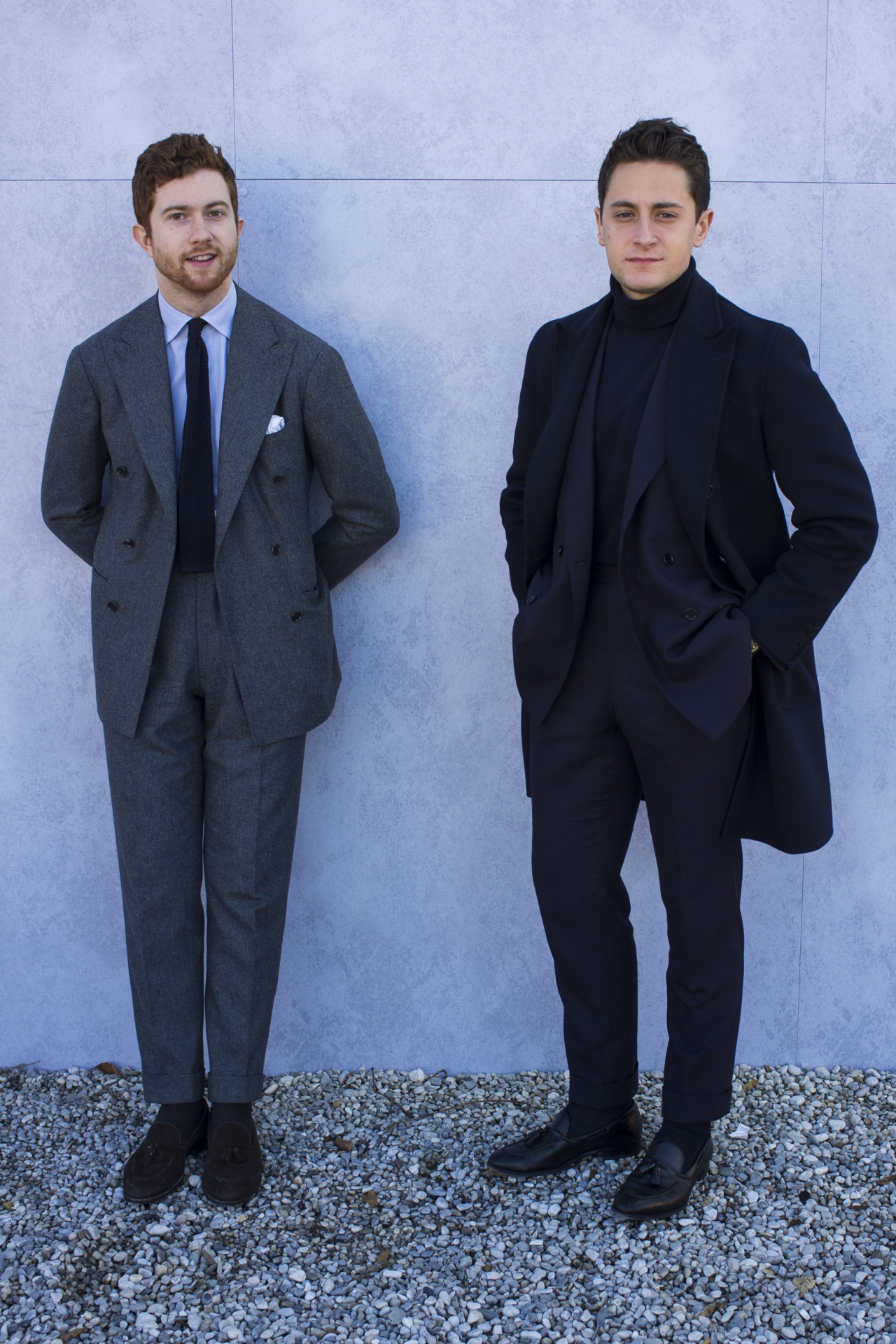 Monochrome has been popular lately in the fashion world – partly as a reaction to the all-out dandyism that took over menswear five years ago, and partly because of the rise of "minimalist streetwear" and designers such as Rick Owens. Wearing a full (or nearly full) monochromatic look isn't just for casualwear, however. The same principles for what makes those looks work can also be applied to a more classic, tailored context. 
StyleForum member EFV recently shot some "street style" photos at the last Pitti Uomo tradeshow. Pitti attendees aren't typically known for subtly – they're usually the ones peacocking in bright colors and bold plaids – but the three pictured above really caught my eye. Alex Pirounis from The Armoury is shown wearing a navy overcoat with a navy suit and navy turtleneck. It's a daring combination, given the lack of contrasting patterns, but it works well for him. Meanwhile, Greg Lellouche of No Man Walks Alone and Yasuto Kamoshita of Camoshita put together some slightly more traditional monochromatic ensembles. The heavy use of gray works because of the contrast-patterned overcoats and difference in textures between their knitwear and jackets. They also accessorized with some interesting neckwear (Greg in a bold scarf; Yasuto in what looks to be a navy ascot). 
When getting dressed, you always want your clothes to have some contrast – unless you're wearing a suit, a jacket should look distinct from the pants, just as a tie should look distinct from a shirt. However, contrast can come from more than just color. There's also texture, pattern, and how light reflects off a surface. Sometimes, similar colors with different textures can look more interesting than similar textures with different colors. 
---